Over the last few months leaders, missionaries and members of The Church of Jesus Christ of Latter-day Saints have been inviting people on American Samoa's Manu'a island group to attend worship services and also to learn about their family trees.
President Reed C. Tolman of the Church's Samoa Apia Mission and President E. Star Lotulelei of the American Samoa Pago Pago Central Stake are among those reaching out to the people of the island group.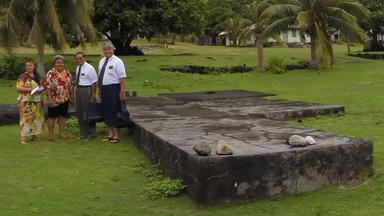 In May 2015, Church missionary couple, Elder and Sister Mamea, arrived in Fitiuta, Manua. They searched for Latter-day Saints living in Fitiuta and Tau who had lost contact with the Church over the years.
A group of church leaders and members visited the island on 12 June 2015. They spent several days walking through the villages introducing themselves and inviting people to come to worship services with them. Family history lessons were also offered to Latter-day Saints and other residents who wished to learn more about their ancestors.
Mormon Newsroom states: "The crowning sacraments of Latter-day Saint temples are the sealing ceremonies that unite men and women and children in eternal family relationships. Latter-day Saints believe that these sealings and other temple rites may also be performed by proxy for those who have died. Consequently, genealogical research or family history is, in Latter-day Saint belief, the essential forerunner for temple work for the dead.  In Latter-day Saint belief, the dead have the choice to accept or reject the services performed for them.
"From early in its history, The Church of Jesus Christ of Latter-day Saints encouraged its members to research their family history. In 1894 the Genealogical Society of Utah was established for that purpose. During the 20th century, extensive negotiations were conducted with governments and custodians of public records to preserve birth, marriage and death records by microfilming them. More recently, microfilming has given way to digital technology."
Read more about Latter-day Saints and family history.
A special meeting was held in Manu'a last month where attendees expressed their gratitude that the Church was growing in numbers and strength on their islands.   
One woman said, "It brings tears of joy to my eyes to once again sing these beautiful hymns."