Funeral services for former congressman from the U. S. territory of American Samoa, Eni F.H. Faleomavaega, will be held in Spanish Fork, Utah this Saturday (11 March). Mr. Faleomavaega passed away on 22 February, 2017 at the age of 73.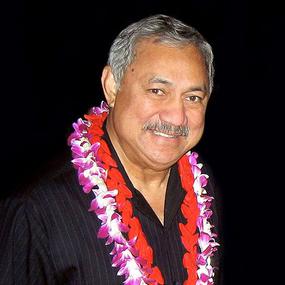 He is survived by his wife, Hinanui Hunkin, five children and ten grandchildren. 
Mr. Faleomavaega was an active member of The Church of Jesus Christ of Latter-day Saints.
President of the Pacific Area of the Church, Elder O. Vincent Haleck, said, "His long and distinguished service to the people of American Samoa is an example of his devotion and love for many people, whose lives were blessed through his service."
Local Latter-day Saint leader in Pago Pago, Sonny Aiono, said Mr. Faleomavaega "served the people with passion and love and will be sorely missed."
According to American Samoa's director of public affairs for the Church, Kalilimoku Hunt, "Aside from Mr. Faleomavaega's intellectual and political accomplishments, he danced his way through college via the Polynesian Cultural Center, as did most of the students in Laie; and he loved his Polynesian music. 
"He has been and will always be a role model for the rising generations…and will be long remembered for his lofty achievements in this life."  
Mr. Faleomavaega was born in American Samoa on August 15, 1943. 
He earned multiple degrees including a bachelor's degree in political science and history from Brigham Young University (1966), a law degree from the University of Houston (1972) and a Master of Laws from the University of California at Berkeley (1973).
Mr. Faleomavaega began his political career in 1973, serving the government of American Samoa in many different capacities.
In 1981 he was appointed as deputy attorney-general for American Samoa.
In 1985 he was elected lieutenant governor of American Samoa.
In 1989 he became a United States congressional delegate, representing American Samoa.
Mr. Faleomavaega also served in the U.S. Army for three years in between degrees.
A prayer service took place on March 3rd, at 5 p.m. at the Gov. H. Rex Lee Auditorium in American Samoa to celebrate Mr. Faleomavaega's life.
There will be a public viewing on Friday, March 10th, at 6 p.m. and Saturday, March 11th, at 9:30 a.m. in Spanish Fork, Utah.
A funeral service will take place on the same day, Saturday, March 11th, at 11 a.m. in Spanish Fork, Utah.
For more details about services for Mr. Faleomavaega, click here.