The Brigham Young University–Hawaii Concert Choir will be touring New Zealand and French Polynesia to celebrate the 175th anniversary of The Church of Jesus Christ of Latter-day Saints in the South Pacific. 
The tour will feature concert performances, devotionals, and school exchanges at locations across the North Island of New Zealand from May 29 to June 9, 2019 and on Tahiti from June 10 to June 15, 2019.
One of the performances will be at Auckland's Holy Trinity Cathedral. Watch a publicity video here:
The choir will perform at the following locations on these dates:
Thursday, 30 May, 7.00pm
Turner Centre, Kerikeri, New Zealand
Featuring local guest artists Watea Voices and Be Free Youth bands
Saturday, 1 June, 7.00pm
Holy Trinity Cathedral, Auckland, New Zealand
Tuesday, 4 June, 7.00pm
David O. McKay Stake and Cultural Events Centre, Hamilton, New Zealand
Thursday, 6 June, 7.00pm
Hastings Stake Centre, Hastings, New Zealand
Saturday, 8 June, 7.00pm
Alan Gibbs Centre, Wellington College, Wellington, New Zealand
Featuring local guest artists Virtuoso Strings
Tuesday, 11 June, 7.00pm
La Salle Manu Iti De Paea, French Polynesia

Wednesday, 12 June, 7.00pm
La Salle Manu Iti De Paea, French Polynesia
Friday, 14 June, 7.00pm
La Presidence, French Polynesia
Saturday, 15 June, 7.00pm
La Presidence, French Polynesia
Please contact local Latter-day Saint leaders or concert venue representatives for more information.
DIVERSITY AND EXCELLENCE
The Brigham Young University–Hawaii Concert Choir is a select group of students, both music majors and non-music majors alike, from various countries all over the world.
Both in membership and repertoire, the choir reflects the ethnic diversity and excellence of BYU–Hawaii, a four-year, comprehensive university with students from over 70 countries.
Choir members are auditioned, selected, and directed by accomplished vocalist and director Michael Belnap.
WELL-REHEARSED AND WELL-TRAVELED
As the premier choral group of the University, the BYU–Hawaii Concert Choir has traveled internationally throughout the South Pacific and Asia, including recent tours to China, Mongolia, Taiwan, Hong Kong, New Zealand, Australia, Japan and South Korea.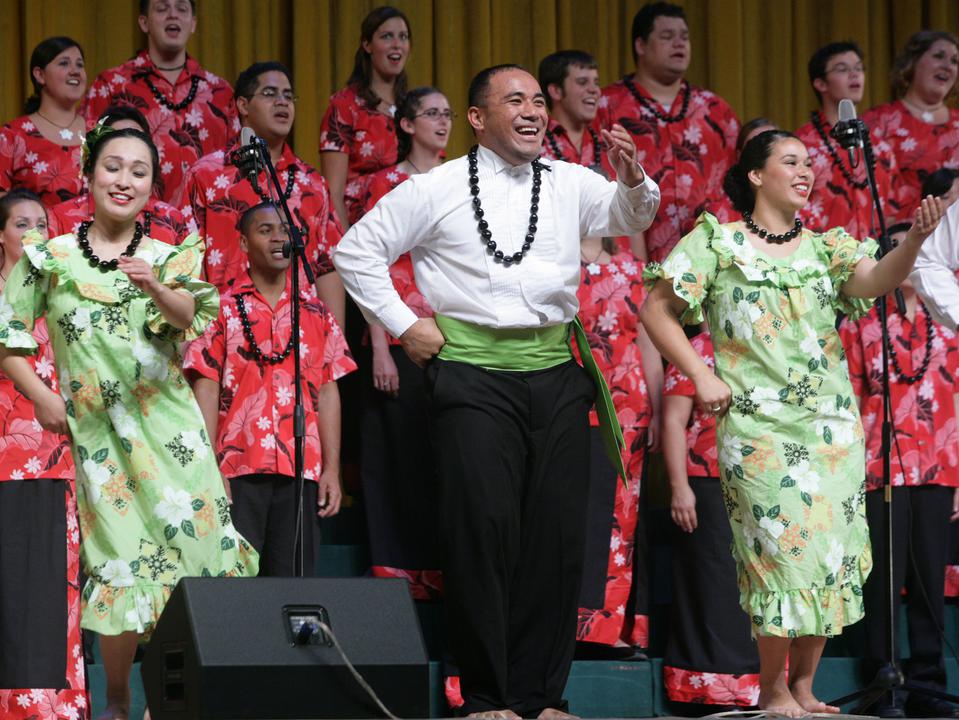 The choir has performed in several notable venues such as the Forbidden City Concert Hall in Beijing, Carnegie Hall in New York City, Metropolitan Opera City Concert Hall in Tokyo, and the Seoul Arts Center in South Korea.
Locally the choir is often found performing for dignitaries and government officials as well as with the Honolulu Symphony and other prestigious ensembles around its island home.
REPERTOIRE AND PERFORMANCE
With a wide range of styles and genres, the BYU–Hawaii Concert Choir features a varied assortment of pieces incorporating classic choral literature, European art songs, religious anthems, American musical theater tunes, as well as various typesof international folk music into their exciting and moving presentation.
The choir is consistently distinguished for its ability to connect with its audience as performers celebrate messages of harmony, family values, peace, love, and joy.
MICHAEL KEITH BELNAP, DIRECTOR AND TENOR
Michael Belnap, director and professor of music and voice at Brigham Young University–Hawaii, received both his B.M. and M.M. degrees from Brigham Young University in Provo, Utah.
After pursuing Doctoral studies at Indiana University and the European Opera Center in Belgium, Belnap toured with the Royal Opera de Wallonie in Germany, Belgium, the Netherlands, and France. He studied privately with world-renowned tenor Luciano Pavarotti of "The Three Tenors" in Pesaro and was a finalist in the 1995 Pavarotti International Vocal Competition in Philadelphia.
Belnap was awarded the Eliza R. Snow Award for the Performing Arts from Ricks College in Rexburg, Idaho, and in 1999 was named as one of five vocalists on a list of the top 100 musicians in The Church of Jesus Christ of Latter-day Saints.
Before coming to Hawaii, Belnap taught music and voice at Indiana University in Bloomington for thirteen years and was associated with Astral Artistic Services from 1994 to 1999.
BRIGHAM YOUNG UNIVERSITY–HAWAII
Brigham Young University–Hawaii is a private undergraduate university, located in Laie, Hawaii, owned and operated by The Church of Jesus Christ of Latter-day Saints.
Established in 1955, BYU–Hawaii serves approximately 3,000 students, from over 70 countries. It is composed of seven academic faculties that offer 40 major fields, 65 minors and 12 certificates.
BYU–Hawaii continues to help provide low tuition rates and financial aid for current students, while working closely with the Polynesian Cultural Center to create scholarship and employment opportunities for students attending on-campus.
The small class sizes at BYU–Hawaii allow faculty and students to work closely together creating intellectual, moral, and ethical learning environments and allow to fulfill the university's mantra of "Enter to Learn, Go Forth and Serve."