During a recent global Face to Face broadcast for young women, the Young Women General Presidency of The Church of Jesus Christ of Latter-day Saints highlighted teenagers from all over the world who have given service to others through their #MY150 projects.
Nineteen young women from the Pacific area, including Australia, New Zealand, Samoa and French Polynesia, were featured and their photos were shown during the live Face-to-Face event.
Among those who were featured was Linahei Dauphin who produced a video telling how she had a dream about her ancestor that convinced her to do her family history. See her video here:
Mihiau Jean, from Puurai, Tahiti, chose to compile 150 inspiring quotes from the 15 Young Women general presidents of The Church of Jesus Christ of Latter-day Saints, from 1880 to 2020. This responds to the #My150 challenge initiated by Bonnie H. Cordon the current Young Women General President.
Mihiau makes the quotes into inspirational memes and posts them to her Young Women Facebook Messenger group every week to encourage her class with inspiring and uplifting messages.
"I am learning from past and present Young Women presidents and by emulating them, I wish to add my name 'to the long and glorious list of young women committed to follow our Savior, Jesus Christ,' as Bonnie H. Cordon invited us to do," Mihiau said.
Three sisters from Tahiti~Maimiti, Majorlaine and Marina Tuhiti, worked together for their #My150 project, to make a list of who they wanted to thank that included family, friends, neighbors, Church leaders, and teachers from kindergarten to high school.
The sisters wanted to show gratitude to others especially during a difficult situation like COVID-19.
Maimiti, age 12, said "thank you," Majorlaine, age 16, wrote thank you notes, and Marina, age 17, wrote sincere compliments to 150 people each. They shared how they felt after completing their goals:
Maimiti: "Doing these small acts of kindness really helps me personally to be constant in my efforts. And I am uplifted when I can help someone else."
Majorlaine: "I testify that if we do good around us, we set a good example so that in turn, others can share and show love for their neighbours as well."
Marina: "I testify that if we reach our goals with a good heart, we will be blessed and we will have a good and happy life. I know that perseverance, patience and above all putting the Lord first will always result in receiving many blessings."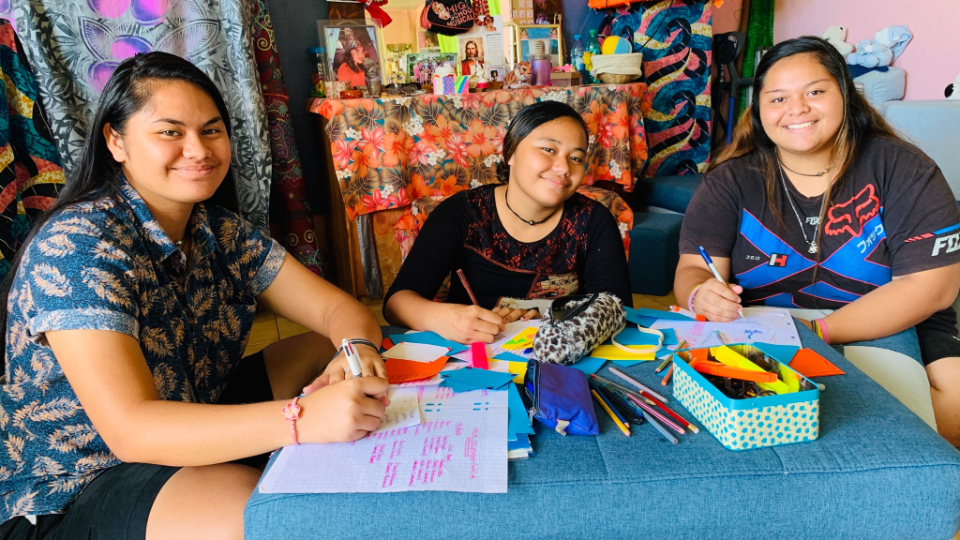 Mihinoa Chongaud chose to look after her bedridden great grand-mother for more than 150 hours, combing her hair, reading her the Book of Mormon, singing together, listening to her stories as a youth, and massaging her granny's feet. 
"I am grateful for what the Lord is doing for me and also for the young women organisation which helps each young woman develop her divine nature and personal worth. I am also grateful for the opportunities to serve individuals, especially my family, and I testify that if we strive to be more like Christ each day, we will be blessed and happy," she declared.