The desire to receive the blessings that the temple offers runs deep in the souls of the Vanuatu members of The Church of Jesus Christ of Latter-day Saints. Many in the past have gratefully made sacrifices to pay the price to travel across the seas to attend a temple, the one place on earth that they can forever unite their families.
Bishop Katimal Kaun and his wife Mariella were among the Vanuatu saints who faithfully prayed and longed for a temple to be built in their island home. They rejoiced with their fellow Latter-day Saints when the temple was announced for Vanuatu and the recent groundbreaking ceremony has brought the dream even closer to becoming a reality.
Bishop Kaun has a framed letter on his office desk inviting him and Mariella to be on the Temple Groundbreaking Committee, putting them in the thick of the monumental effort to prepare for the advent of the Vanuatu temple.
On Saturday, 8 April 2023 a beautiful groundbreaking ceremony was held. At the close of the event, Bishop Kaun stood in front of the rendering of the soon-to-be-built temple with his daughter, Katalyna, holding a picture of their beloved wife and mother, Mariella, age 48, who died of cancer last year.
Standing on the ground that is now blessed and set apart for a temple where families will be united for eternity, Bishop Kaun felt Mariella close, rejoicing with him from the other side of the veil. "It was so wonderful, so lovely to feel her there."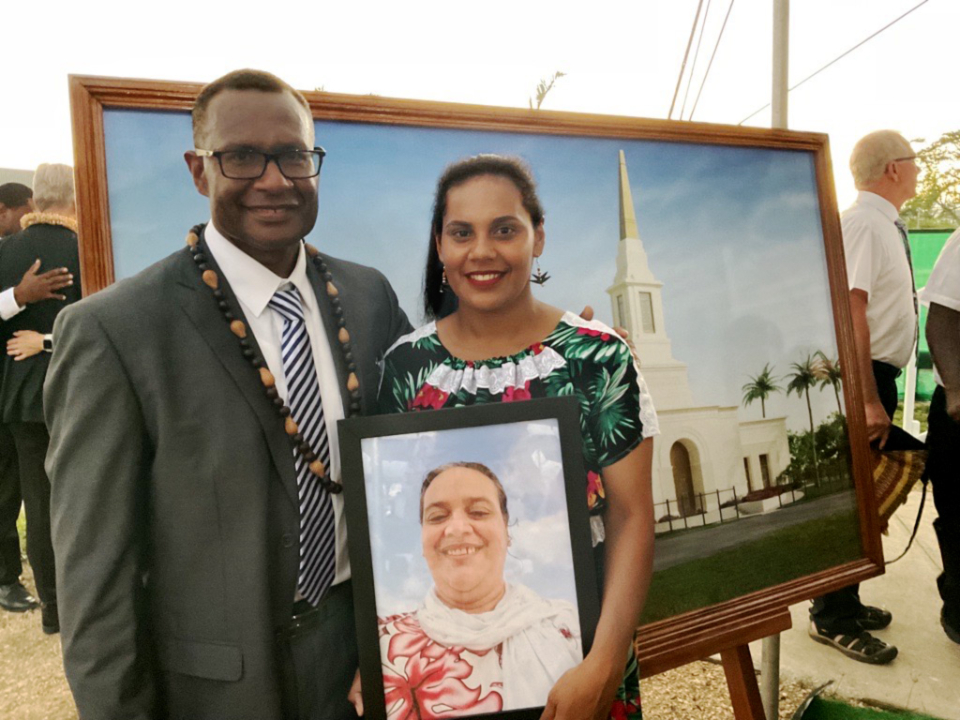 Katimal Kaun shared additional thoughts about his wife, saying "I miss her. We all miss her. But we know the gospel is real and it makes a difference. I know that we will see each other again because of temples."
"When she died, I came to realize that there are all types of suffering. The loss of Mariella has been for me a terrible loneliness and emptiness. I learned that my loneliness was something that Christ also suffered. When Christ needed His Father the most on the cross, He was alone and suffered terrible loneliness. Because He suffered it, I don't have to suffer alone. I don't have to feel alone, because Christ experienced it and I can feel that profound love from Him. I know that Mariella is on the other side watching over us and I am blessed by that knowledge. Our temple covenants matter."
Mariella's daughter, Katalyna Kaun Tiasinmal, said, "My mother had a deep connection with the temple. During her final days she talked about it all day long, including the day she passed."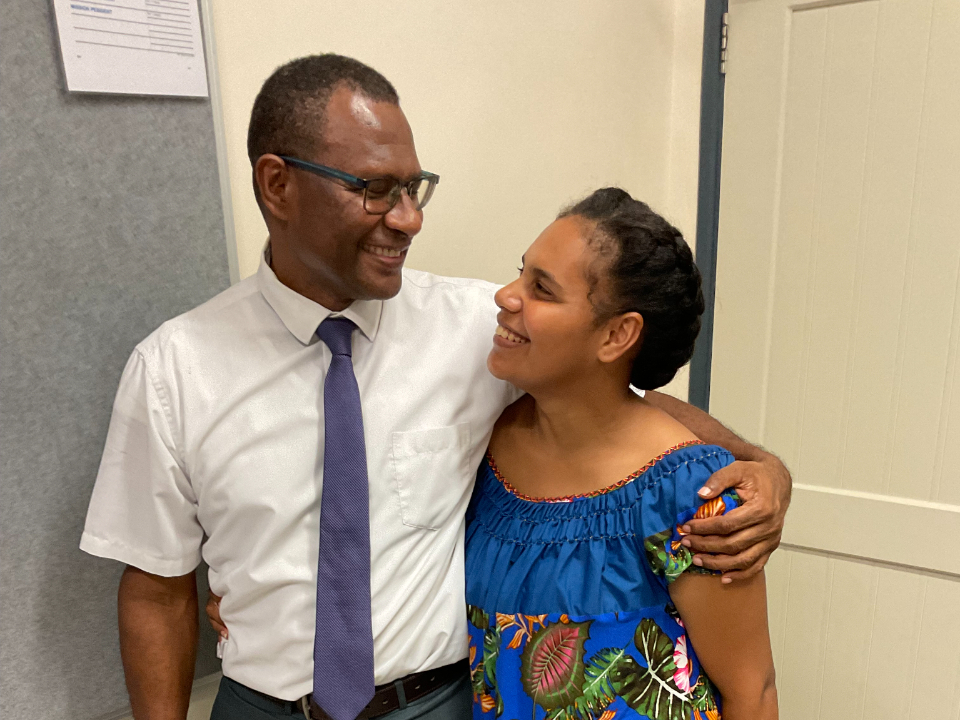 Mariella worked as a translator for The Church of Jesus Christ of Latter-day Saints. She was fluent in three languages: French, English and Bislama. She translated Church materials such as conference talks, the sacred scriptures, and supported temple translation projects, making the ordinances accessible to the people of Vanuatu. "Of all the translation she did, my mother loved the temple projects the most," Katalyna noted.
Mariella's family weren't the only ones remembering her on the special day of the temple groundbreaking. She was also very close to the hearts of the many young people there whose lives she elevated.
Dean Westerlund, the Pacific Area Education Manager for The Church of Jesus Christ of Latter-day Saints, estimates that Mariella changed the course of well over 3,000 young Ni-Vanuatu lives "because of her love for the Saviour and her passion for serving others. She was assisting roughly 600-700 kids a year to get scholarships."
Education is difficult and expensive in Vanuatu and for most young people it is inaccessible. The Church of Jesus Christ of Latter-day Saints emphasises education and learning as a pathway to self-reliance. To that end, the Church administers scholarships and educational opportunities for many of its members.
Mariella spent several years as a Church volunteer assisting young people to apply for those scholarships, encouraging them to become educated, to get to the temple, and to achieve their potential. Education and the temple were both passions for Mariella. She dedicated her life to helping the kids apply for schools, to fill out applications, apply for visas and passports, and get required medical checks. Mariella encouraged them and taught them to work hard and to reach higher.
Often, Mariella Kaun traveled to outer islands at her own expense to help families to understand education options and how to access them. She translated documents for families into their native tongue making it easier for them to fill out applications and to access grants or scholarships. She developed efficient systems to help young people and their parents apply for scholarships, to enroll in Church colleges and universities including Brigham Young University-Hawaii, as well as to access local education options.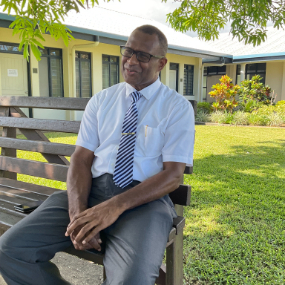 Each child she helped took hours of her time and acquired expertise, as well as her huge reservoir of love. They all became her "children" and she became "Aunty Mariella" to each one she loved and helped. Mariella was passionate about helping youth reach their potential and become the best they could be. Her husband, Katimal, said, "She could see the potential in each young person."
Dean Westerlund remembers that Mariella's long vision for each child included helping them worship in the temple. Her main goal for every young person she helped into a school in another country was to get them to one in close proximity to a temple so they could attend and bring the Spirit of the Lord they found in the temple back to Vanuatu with them and become leaders in the Church."
Lionel Patterson Lui is one of the young people that Mariella helped. "She was a great support to me. It hurt when she passed away. She was a mentor who encouraged me to go and do my best. She helped me and all the kids my age to get an education and to be self-reliant and to be strong in our faith. She helped me to understand the importance of temple worship. I know she was at the temple grounds with us, I could feel her there."
The professionals who worked with Mariella, including Dean Westerlund, all agreed that "there will be a generation of students that will remember her their whole lives. She brought light and truth into the lives of many."
Because of Mariella's dedication and love, those students are the future leaders of the Church and their communities, ready and prepared to enjoy the blessings of the temple now being built in Vanuatu. Her influence will be an eternal one.