Alex Murphy always knew he wanted to serve a mission for his church, The Church of Jesus Christ of Latter-day Saints. In his heart, he knew he loved the Saviour and wanted to be able to serve others as Jesus Christ did. His mental and physical conditions made it difficult for him to serve a mission.
Alex was born in New Zealand and when he was five years old, the Murphy's decided to move to the United States to get the educational assistance for Alex and his sister who have special needs.
While living in Arizona, Alex had lots of friends who were leaving on missions which made it even harder for him. Then his family heard about a change to the global missionary program being introduced in Utah that might create an opportunity for Alex to serve.
In November 2018, the Church created "Service Missions" for those who have a desire to serve but who have physical, emotional or mental health challenges that prevent serving a full-time teaching mission.
With this news, Alex started preparing his mission papers but some difficult medical issues arose which delayed that process.
Then as COVID was sweeping the country in early 2020, the Murphy family's business was forced to close and they wanted to move. But instead of going to Utah as they had planned, they felt prompted to return to New Zealand, managing to arrive the day before the New Zealand border closed.
They settled in Hamilton and found out that the service missionary program was not available in New Zealand yet. Alex would have to wait a little longer.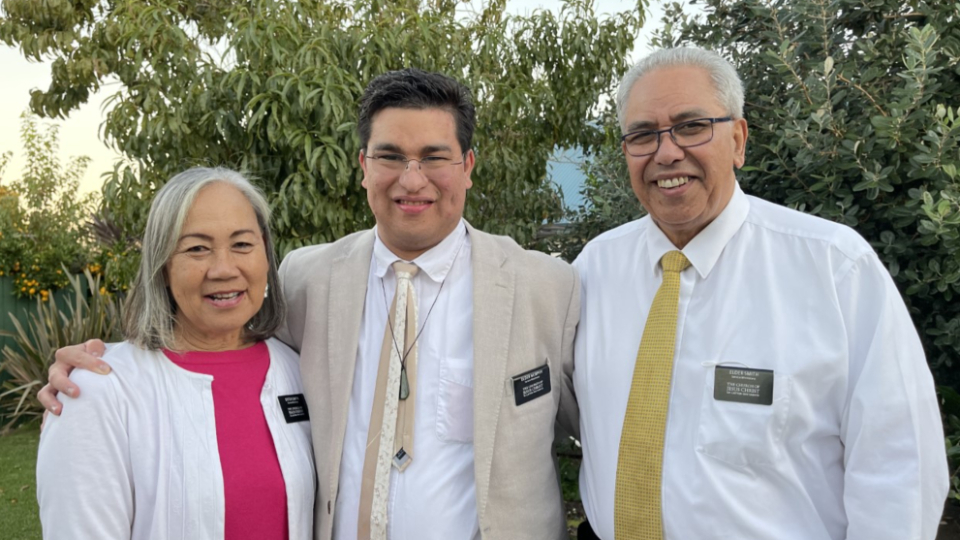 Ngatai and Tweetie Smith were asked to lead the new service missionary program in New Zealand. They explained that for several years, service missionaries had been called by local leaders and assigned in their communities. The new service missions are part of the global program and follow the same process as full-time missionaries where young men or women, ages 18-25, are recommended by their local leaders and the mission call comes from the president of the Church. Unlike full-time missionaries, they live at home and do service work four or five days a week in their local areas.
Each mission is customized to each missionary. A large part of the Smith's assignment is to locate places where these young adults can do service work. Some of the projects are at Church facilities while others are with community organizations.
Alex's papers were submitted in early 2022 and he soon received an email from Church headquarters. His whole family got together on a video conference and when Alex opened the message from Church President Russell M. Nelson, he was very excited to see that he would be serving a two-year service mission, in New Zealand, where he always said he wanted to go. Alex was the first service missionary to get his call this way in New Zealand.
After being ordained as a missionary, Alex, now known as Elder Murphy, received his first assignment. At the church-owned Camp Tuhikaramea where he does maintenance work. He likes to drive the 'buggy,' a small utility vehicle that services the area. The camp was originally known as Hamon's Bush and was developed by his great uncle, Roger Hamon. Elder Murphy likes having that family connection.
Another assignment is assisting the groundskeepers at the Hamilton New Zealand Temple with landscaping and maintenance, weeding and washing buildings and sidewalks.
He has also helped the St Vincent De Paul organization make 600 draft stoppers, fabric tubes that block cold air coming underneath doorways that are sold in area op shops.
The mission program also encourages service missionaries to expand their talents with personal development projects. Elder Murphy loves music so he joined the Hamilton Interfaith Choir. A local music teacher offered to give him piano lessons using a piano that once belonged to Jack Murphy, his great-grandfather, who taught music at the Church College of New Zealand. Yet another family connection.
He does personal spiritual development just like other missionaries and he attends Institute of Religion classes weekly. He also team teaches early morning seminary with his Mum, Lizett, to the young people of their local congregation.
She sees that Elder Murphy is having a wonderful experience. "Throughout all the change and waiting, he has been positive and hopeful and feels that everything is good.
"We have seen a much happier, accomplished, full of purpose, independent Elder Murphy. Being able to serve on a daily basis is bringing him to a new level of being." 
Elder Murphy says, "My favourite place to serve is at the temple." He loves being near the temple, which has been closed for remodeling but will reopen after four years of construction starting with an open house in August and a rededication in October.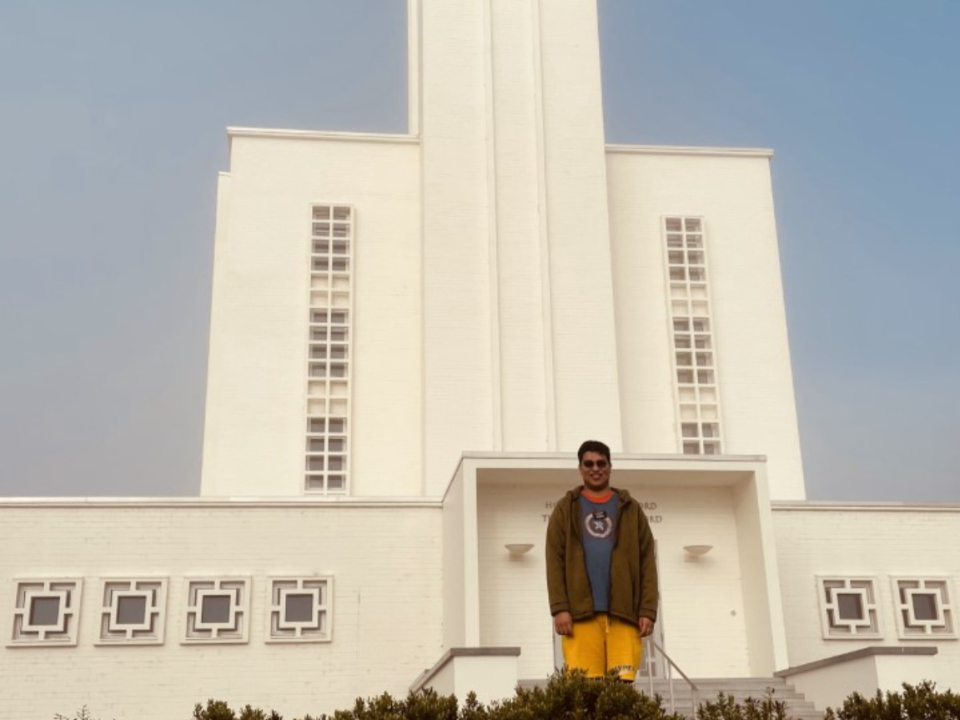 Right now, it is only open to the maintenance staff and Elder Murphy.
Editor's note: A stake is a group of congregations.