On Wednesday, 30 June 2021, for the first time in 15 months, a group of new missionaries arrived at the New Zealand Missionary Training Centre (MTC) in Auckland, to start in-person training.
These 25 new missionaries for The Church of Jesus Christ of Latter-day Saints, all from New Zealand, have already done a week of online MTC at home prior to coming. 
Twelve other missionaries who planned to come to the MTC from Australia were not able to do so, due to recently imposed travel restrictions caused by COVID-19.  
The Australian missionaries will be welcomed whenever it is possible for them to travel. In the meantime, they will continue online training.  
The teaching staff at the New Zealand MTC will continue to run online classes for other new missionaries in other parts of the South Pacific, whilst the New Zealand group trains onsite. 
Elder Mosiah Kaitu'u, from the Auckland suburb of Mangere, was the first to arrive at the centre. Asked why he came so early, he said, "I was too excited, I couldn't sleep!" 
Originally from Brisbane, Australia, Elder Kaitu'u came to New Zealand two years ago to study and to "look after his nan." 
After a year of study, living with his grandmother, he had the desire to go on a mission. He started working to save money but COVID-19 slowed his plans. He eventually received his mission call, assigned to his hometown, Brisbane. 
His grandmother encouraged him with loving support, "but didn't push too much," he says. 
"I came to look after her, but she's the one who helped me spiritually."
Sister Nina Maluafiti flew in from Christchurch early in the morning. She is preparing to serve in the Australia Adelaide Mission.
"I didn't think I had the courage to go on a mission," she said. "But I knew the Lord wanted me to go, so I took a leap of faith.  
"I became a missionary only ten days ago, and have already seen the blessings that have come to me and my family while attending online MTC at home." 
President Lindsay Dil, and his wife, Sister Tina Dil, served at the New Zealand MTC from January 2019 until March 2020, when the centre was closed due to the pandemic. 
They have resumed their service and will lead the centre until President Charles Rudd, and his wife, Sister Annette Rudd, can travel to New Zealand from the USA.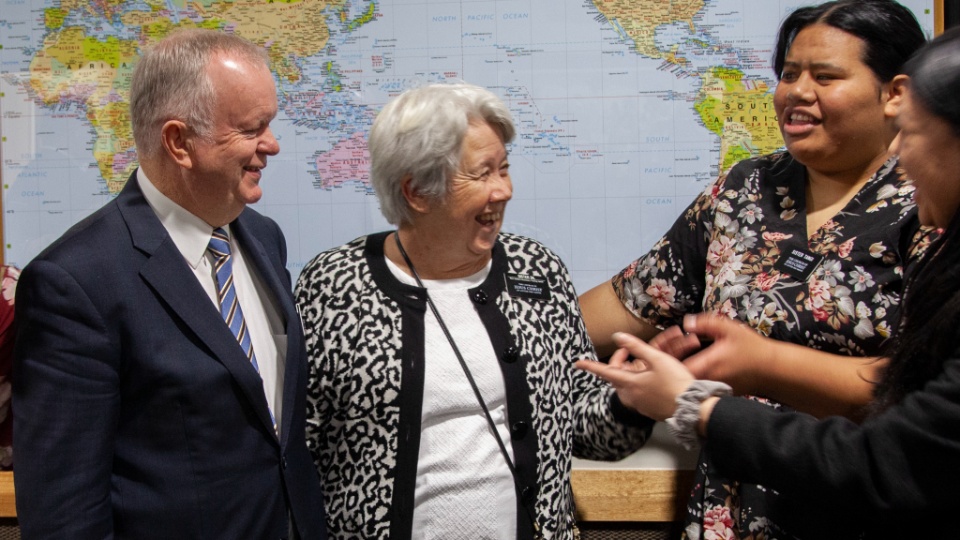 "We had an online devotional last Sunday with the incoming missionaries and their parents," said President Dil.  
"It was a first for us at the MTC to have a meeting including the families. When we saw everyone on screen, we felt an immediate connection with them and deep appreciation for the faithful families who have prepared their children to serve missions.   
"The re-opening of the MTC felt real and imminent and the devotional generated a lot of joy for us. We are excited to meet these new missionaries in person." 
President Dil continued: "There is great value in the training that missionaries receive onsite. Here, the missionaries learn to serve each other, and from their peers they receive example and encouragement. This aids the transition from young single adult to  'devout disciple of Jesus Christ' – which is the standard President Russell M. Nelson sets for all missionaries." 
Another family arrived at the MTC. Paneta and Emily Tauvao dropped off their son, Elder Henry Enos Tauvao, and said goodbye.  
"I am so happy and proud of him for wanting to serve the Lord," Paneta said, of his son. 
"We will miss him, but I'm not worried, as he is in the loving hands of our Heavenly Father."