Last Saturday, 27 June, members of The Church of Jesus Christ of Latter-day Saints from Auckland's Lincoln ward (congregation) partnered with Te Ukaipo and Tag Out Trust to clean up the Paremuka stream and surrounding area in the western Auckland suburb of Ranui.
The clean-up is part of an environmental plan called "Project Twin Streams." According to its website, "Project Twin Streams is a large-scale environmental restoration project to improve water quality in Waitakere streams by re-vegetating stream banks with native trees and shrubs."
Latter-day Saint volunteers took part in the effort under the banner of the Church's "Mormon Helping Hands" program.
The volunteers delivered and helped plant 100 seedlings along the Paremuka stream bank on the day.
"Project Twin Streams" community coordinator for the Ranui and Massey area, Joanne Harakaia-Olsen, said, "In some parts…there are no trees and the stream and its inhabitants are exposed to the harsh environment. A stream needs to be shaded in order for inhabitants to flourish."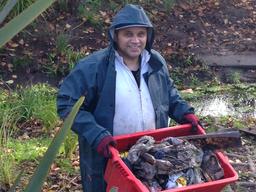 The volunteers also cleaned up debris around and in the stream, and removed tagging on the fences.
Marilyn Manukia, public affairs director for The Church of Jesus Christ of Latter-day Saints in Henderson, said, "Everyone in the community can help make a difference. Sometimes it is doing simple things like picking up rubbish, or planting a tree. By being part of the solution we take a personal interest in our community and make it a better place to live."