After more than two years of isolation because of the COVID pandemic, Vanuatu opened its borders in early July. This allowed the leaders of the mission for The Church of Jesus Christ of Latter-day Saints, based in Port Vila, to finally travel to New Caledonia—which is part of their mission.
Mark and Jean Messick began their service in July 2021 and their mission includes Vanuatu, Solomon Islands and New Caledonia. Because the borders have been closed, they have been unable to meet many of their young missionaries in person and have been leading them remotely, via technology.
With the opening of the Vanuatu border, they could finally travel to New Caledonia. Their arrival on 10 July was a welcome sight for the members and missionaries there.
Because of the pandemic, all missionaries were reassigned back to their home countries in March 2020, leaving none in New Caledonia. One year ago, two local members were called as missionaries to serve in their home country. Six months later, ten additional missionaries from Tahiti joined the team.
"There are 23 now and soon there will be 40," said President Messick in fluent French during last Sunday evening's spiritual meeting. "It is so nice to be in a country where you can share the gospel with everybody, and that makes missionaries happy." 
President Messick served a mission as a young man in Canada where he learned to speak French. He is grateful to be able to use this skill again in New Caledonia.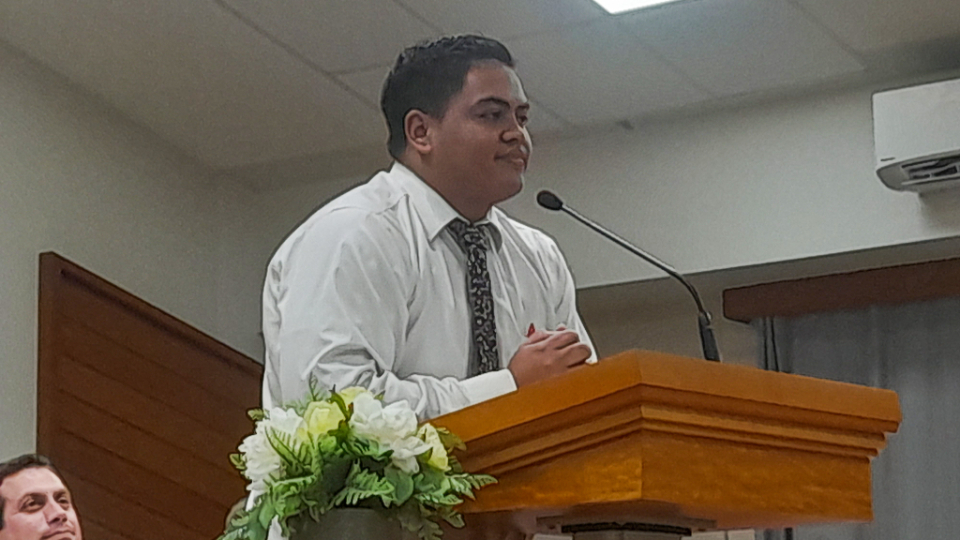 Elder Stewart Parau was the first New Caledonian missionary to be called since March 2020.  He was joined by another local young man, Theotime Smatti, and together they began serving in Noumea in July 2021. 
Elder Parau says he has seen the gospel of Jesus Christ changing people's lives. "I love being part of that." 
"When we pray, we have to ask ourselves: how can I love my neighbour more? It's by inviting others to hear the gospel, that is the key!"
President Messick said that the trip to New Caledonia was the fulfillment of a dream he has had for much of his life. His father served there during World War II and had a remarkable experience for two years as he helped with the construction of the hospital.
"For the past year, Sister Messick and I have longed to come to New Caledonia to be with our missionaries and participate in meetings with members. Until last week, we had to do everything by Zoom. While we appreciate the amazing technology, there is nothing like being together in person."
Sister Jean Messick said it was wonderful to meet the many Church members there as well. "We felt so warmly received and we instantly felt like we were part of their congregation." 
"New Caledonia is a beautiful island, full of beautiful people, faithful members and valiant missionaries. We cannot wait to come back."