Christmas came early for two charitable organisations in New Zealand this week with visits that delivered some Christmas cheer. Groups in Hamilton and Auckland received a gift from Latter-day Saint Charities, the humanitarian arm of The Church of Jesus Christ of Latter-day Saints.
Elder Ian S. Ardern, president of the Pacific Area for the Church, and his wife Sister Paula Ardern, began their visits at "The Serve" in Hamilton, New Zealand.
The charity provides meals for homeless and other persons experiencing challenging circumstances. This time of year, they are also providing gifts for families to give to their children for Christmas. 
"The Serve is a non-denominational and volunteer-led organisation that is committed to serving evening meals 365 days a year," said Natasha Willison, executive director for the centre. "We are so grateful for this generous Christmas gift."
Sister Ardern presented the contribution on behalf of Latter-day Saint Charities. She remarked how heart-warming it was to see so many volunteers of all ages, Church members included, donating their time to packaging presents and preparing meals for those they will never meet. 
"It is surprising just how many people in our community are unable to fulfill their essential needs each day, and this is how The Serve came to life," said Marouna James, president of the Hamilton Glenview Stake of the Church. Members of the Glenview stake regularly volunteer at the centre.
The next day, Elder and Sister Ardern visited De Paul House in Auckland's Northcote neighbourhood, where they presented another contribution from Latter-day Saint Charities.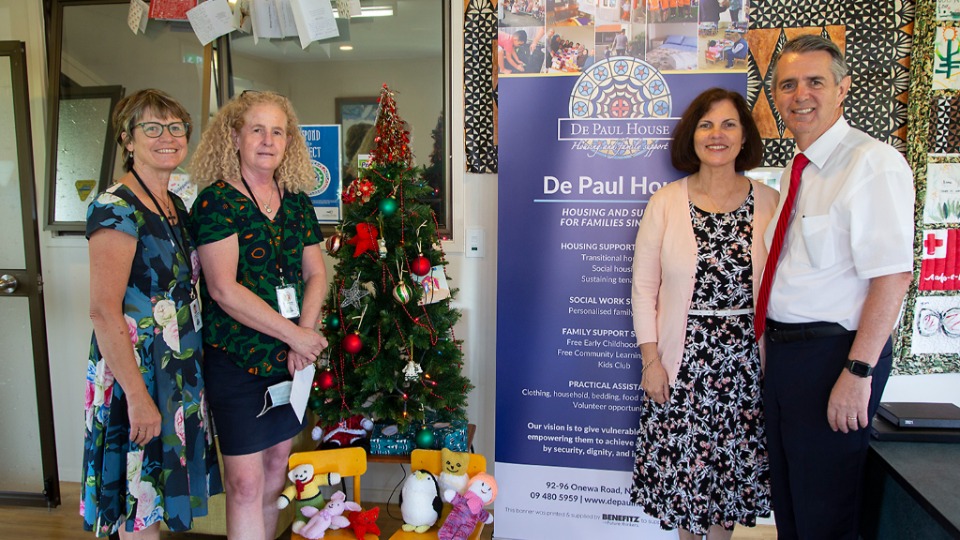 They met with Jan Rutledge, general manager, and Lesley Farmer, who coordinates volunteer and community liaison. The women expressed their gratitude for this support.
"This kind of financial support is what has kept us going through the pandemic. We have managed to grow even as the demand for housing has expanded with the rapid rise of housing prices. We are grateful to be able to help so many."
De Paul House provides housing and support services for those most vulnerable in the community, focusing on families with dependent children. Currently the charity provides support for over 50 families. While housing is their main concern, this year the needs of families grew even greater with the pandemic, and they have begun providing food as well.
They are supported by many community groups and are partially housed on property belonging to the Archdiocese of Auckland. Catholic congregations in the area also offer their support throughout the year. Latter-day Saint Charities and Church member volunteers have supported the charity for several years.
Elder Ardern noted that these financial donations were being made on behalf of members of the Church from around the world. "They freely give," he said, "so others, unknown to them, can be lifted out of despair, discouragement or disappointment through love and goodwill."