Members and friends of The Church of Jesus Christ of Latter-day Saints across Australia, New Zealand, Papua New Guinea and the islands of the South Pacific gathered in congregations today to discuss ways to strengthen faith in Jesus Christ this year.
In congregations from Western Australia to French Polynesia, and Papua New Guinea to New Zealand, Church members watched a video featuring members of the Pacific Area Presidency share focuses and invitations aimed at strengthening faith in Jesus Christ.
Watch the 15 minutes long video that was viewed in Pacific Latter-day Saint congregations today, here. The video is available in several Pacific languages. 
Tariu Fepulea'i, from Auckland, said, "The sacrament is so important to me. I remember my Saviour and my covenants with Him—it's just like a battery recharge every week."
He continued, "Sunday is like our half time. It is our rest period, a time to huddle together to listen to our leaders and most importantly it brings us to the sacrament...to partake of all that is sweet and to feel gratitude for the Saviour."
Tariu's wife, Talalelei Fepulea'i, said, "The ordinance of the sacrament is a gift to remind us of our Saviour's sacrifice, His obedience and His love. It is a privilege to come every Sunday to partake of the sacrament."
Brothers Zachary and Noah Evans, from Brisbane, enjoyed learning about the Pacific Area focus for 2023.
Lynda Dickey, from New Zealand, said, "I feel that focusing on the sacrament and the temple will increase our capacity to follow our Saviour better, to increase our dedication to the covenants that we have made, and strengthen us in areas where we may be struggling."
She added, "I love the goals. I think they are very relevant for where our members are right now, especially post-COVID."
Albert Niuelua, who serves as bishop of the Sunset Ward (congregation) in Auckland, said he loved the Area Presidency focus discussion today and learning from fellow ward members what it meant to them. 
"For me," he added, "I love how each Sunday I am able to reset myself and receive peace and rest as I draw upon the Saviour's love and Atonement when partaking of the sacrament. The Area focus has strengthened that focus and how I can also help others including family and friends to enjoy the same."
Lev Faiva and her son Samuelu Faiva are members of the Church from Brisbane, Australia.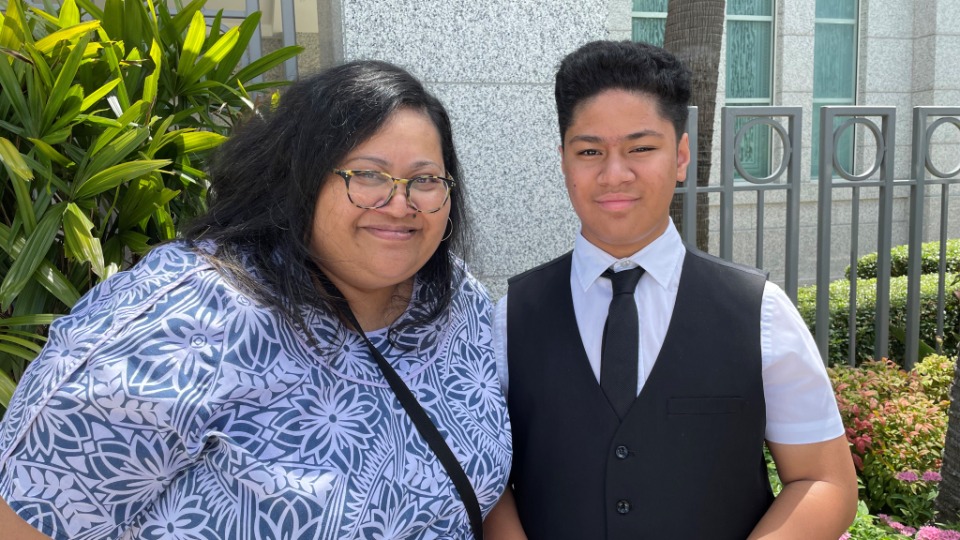 Samuelu just started passing the sacrament last Sunday for the first time. He has autism and his mum and dad wondered if he would ever be able to offer this priesthood service to his congregation as a deacon.
Other young men his age helped him prepare and supported him, and he feels happy now he can pass the sacrament. He thought it would be hard and felt nervous but after the first week he said it was easy.
"I like passing the sacrament to others, and it makes them happy," Samuelu said.
Lev shared her thoughts about the area focus, in particular the emphasis on the sacrament.
"The sacrament helps me centre and focus on the Saviour," she said. "This refines me and my efforts when I reach out to minister to others."