With smiles and soggy feet, juggling pool noodles and buckets, community members arrived early and started their journey to self-reliance at a Sydney home recently.
This would be their first meeting in a series of community self-reliance classes encompassing emergency preparedness and food storage planning—among others—run by Suzi Perryman and Heather Seacy, members of The Church of Jesus Christ of Latter-day Saints from Sydney's northern suburbs.
Each participant arrived at the "Water & Sanitation'' class with pre-bought supplies to make their own emergency bucket toilet, and received information on how to make an affordable home water filtration bucket system.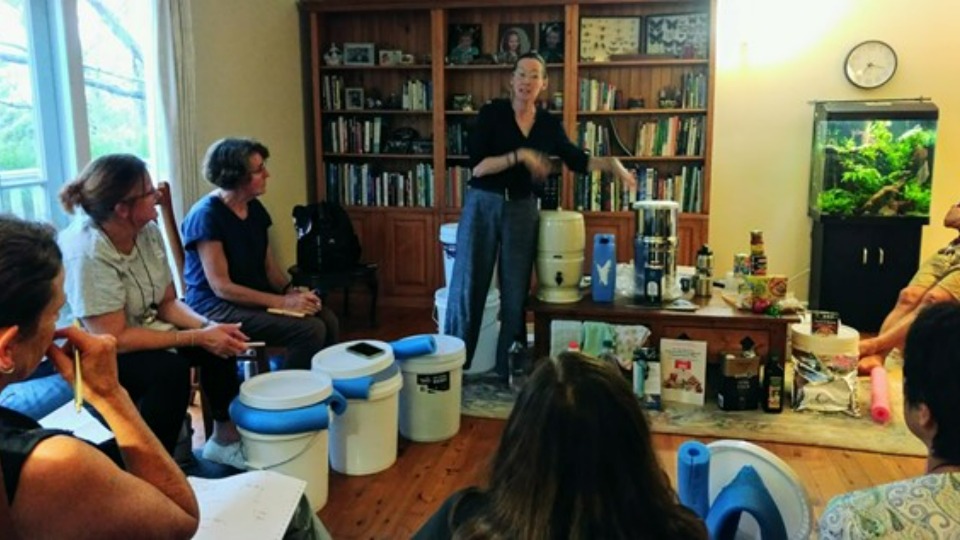 They learned how to assess and calculate their own water needs, understand specifications on finding the water filters that suit their budget and needs for home and 72 hour emergency packs. 
"Our parents lived and taught these principles and we've done the same for 20 years within the Church," Perryman told the participants.
"It seems very timely with the Pacific Area's focus on education and community for us to share our experiences and skills, especially now they're in demand."
Her expertise comes from 18 years running a voluntary organisation called Co-op Stop Australia which encourages preparedness and long term storage.
Heather Seacy adds, "While growing up in Kansas, Italy and Australia, I saw my Mom live these principles of self-reliance. She was educated, frugal and a resourceful woman. It's not surprising that others in the community are becoming awake to these teachings with all that's going on—job loss, global financial instability and natural disasters." 
The attendees soak up Seacy's insights from her life, military training exercises and life with seven children.
Looming over the heads and hearts of everyone in the room was the harsh reality of unattended flood victims in the Northern rivers of New South Wales. 
It was calculated how many people can be supported from one bucket filtration system with heavily dirty water, and the difference to those suffering dehydration and disease it could make.
More flooding and evacuations in Australian communities may follow.
"There has never been a better time to teach temporal gospel principles," says Perryman.
She continued: "We can't help but smile in amazement as we've never seen such enthusiasm, nor have we answered such detailed questions about our church at the same time as emergency toilets! Temporal and spiritual preparation seem so different but the peace that comes from both, and the possibility of blessing others when needed, is incredible. We may not be able to prepare for everything, but we can do our part to not be helpless."
In an October 2020 General Conference talk, President Russell M. Nelson said: "The more self-reliant we are—temporally, emotionally, and spiritually—the more prepared we are to thwart Satan's relentless assaults..Please, keep going!"
Other programs available through Church Self-Reliance programs can be found here.
Information on emergency preparedness with further links can be found here.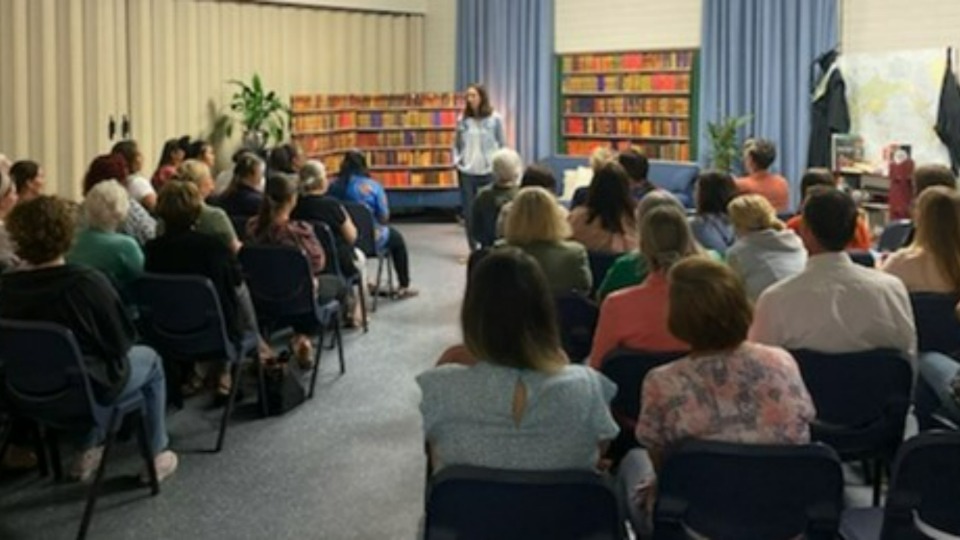 In the picture above, members of the Gosford Australia Stake of The Church of Jesus Christ of Latter-day Saints are welcomed to the 180th Relief Society Birthday, as Maryanne Baker, Stake Relief Society President, opens the meeting dedicated to the pursuit of life skills and education.
Newsroom contributor: Suzi Perryman