Members of The Church of Jesus Christ of Latter-day Saints in Tonga are marking this week's 150th anniversary of the creation of the Church's Young Women organisation.
One young woman who is happy about the anniversary is Vinolia Piulisi Langi. She serves as a student leader at Liahona High School.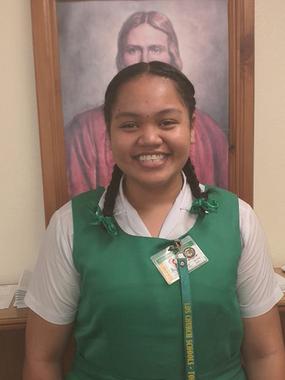 Her high school counsellor, Vika Niupalau Kivalu, says Vinolia "leads by example by putting the gospel first in her life, by following and living the Young Women values."
When Vinolia was 10, her father passed away after a heart attack.
Kivalu says Vinolia describes losing her father as "one of the most traumatic experiences in her life."
"This was a life-changing event for her, because she learned early on in life to turn to the Lord for comfort, guidance, and peace."
Vinolia loves the Church's Young Women program. She says it teaches her to serve others, especially those in need.
Vinolia will graduate at the end of this year from Liahona High School, and then hopes to study at Brigham Young University-Hawaii for a year before serving as a full-time missionary for 18 months.
After her mission she plans to further her studies, specifically in the medical field, so she can return to Tonga and help her people. She hopes to one day marry in the temple and envisions a "bright future for herself and future family."