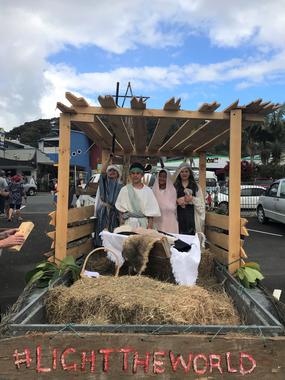 Latter-day Saints throughout the world are inviting everyone to share the light of Jesus Christ with others this Christmas.
In Paihia, a float by the Bay of Islands Ward (congregation) in the Christmas parade provided encouragement to #LightTheWorld.
Striving to follow the Saviour, members of The Church of Jesus Christ of Latter-day Saints and their friends across the South Pacific are lighting the world with service.
Jesus Christ declared: "I am the light of the world: he that followeth me shall not walk in darkness, but shall have the light of life" (John 8: 12).
They are doing so "in 25 ways over 25 days," starting on 1 December and culminating on Christmas Day.
Suggestions of how acts of service can be performed each of the 25 days are available online. For example, the suggestion for December 18 is: "Forgive men their trespasses," based upon Matthew 6:14, "For if ye forgive men their trespasses, your heavenly Father will also forgive you."
A video for each day provides a visual representation of that day's suggested service, in this case, a father meeting and embracing an estranged son at a transportation hub. Suggested actions are also included. "Do you have unresolved differences with someone? Don't let anger or regret fester. Take action to work it out."
This article will be updated throughout the Christmas season displaying acts of service throughout the Pacific. Keep coming back periodically during December to see what your Pacific neighbours are doing to #LightTheWorld.