New Zealand faith leaders celebrated World Interfaith Harmony Week with presentations to the theme, "Creating a Culture of Cooperation Among People of Faith: Finding Virtue in the Other."
Buddhist, Muslim, Sikh, Ratana, Hindu, Anglican and The Church of Jesus Christ of Latter-day Saints faith traditions were represented.
The virtual event was hosted by Geoffrey Fyers, Secretary General of the Universal Peace Federation, New Zealand. Ruth Cleaver, President of the Auckland Interfaith Council, provided a summary and closing remarks.
Tania Torea, communication director responsible for supporting Church leaders and volunteers in New Zealand and the Pacific Islands, and member of the Wellington Interfaith Council, participated.
She shared examples of Latter-day Saints working alongside Muslim and Jewish friends on their important projects.
Quoting the Church's prophet, Torea said, "I love how President Russell M. Nelson teaches us that 'When we love God with all our hearts, He turns our hearts to the well-being of others in a beautiful, virtuous cycle.'"
Torea added, "It's incredible what happened. As we worked together, our love for one another grew and our respect for one another's faith traditions deepened. I cherish my friendships."
Read the text:
The Church of Jesus Christ of Latter-day Saints is an international church spread out across the world with members in Ethiopia and Slovenia, in Taiwan and Vanuatu. There is great diversity, many languages, customs, and histories.
What unites us is our culture of Jesus Christ, it is centring our lives on Him, and living in accordance with His teachings.
Esteemed prophet and president of the Church, Russell M. Nelson said to a global audience, "When we love God with all our hearts, He turns our hearts to the well-being of others in a beautiful, virtuous cycle."
Let me share two examples.
First: Following the Christchurch terrorist attacks in 2019, Hafsa Ahmed, a Lincoln University scholar, met with many of the Muslim families and recognized there were many needs. She partnered her own charity, the Lady Khadija Charitable Trust, with other organisations to create the "Boxes of Love" initiative.

The Church of Jesus Christ of Latter-day Saints was one of the organisations that helped under the direction and leadership of Noeline Odgers. 
Noeline and Hasfa are different in age, have different customs and histories, and different religious beliefs, but these differences are both compatible and complementary when the focus is on what they have in common, God comes first in their lives and because of their love for God, their hearts are turned to the well-being of others.

In an interview in May 2019, Hasfa said, "It is important for these collaborations across faiths to occur as we stand at a time in humanity where hate is becoming prevalent… By strengthening our relationships towards the common goal of spreading peace and love we become part of the solution. The key is to work at all levels and interfaith collaboration provides us with a perfect platform to do this by sharing brotherhood and sisterhood."

Second: The late Inge Woolf, founder of the Holocaust Centre of New Zealand and a Jewish Holocaust survivor, had a plan to create a button exhibition to remember the 1.5 million children who were killed in the Holocaust.

The buttons were collected by students at the Moriah Jewish Day School in Wellington, New Zealand in an effort to understand what 1.5 million really looked like. When the school closed in 2012, responsibility for the buttons was passed to the Holocaust Centre of New Zealand.

Latter-day Saints joined with the Jewish community and other faith groups to clean the buttons, some of which had deteriorated from being in storage for several years. The project took almost two years to complete.

The any hours of service brought volunteers together in a special way. While memorializing the disastrous consequences of intolerance, volunteers were building friendships with and working alongside people different from themselves.

Mary Morris, the lead project coordinator, said in an interview, "We're all people from different backgrounds and we've kind-of become brothers and sisters through this project."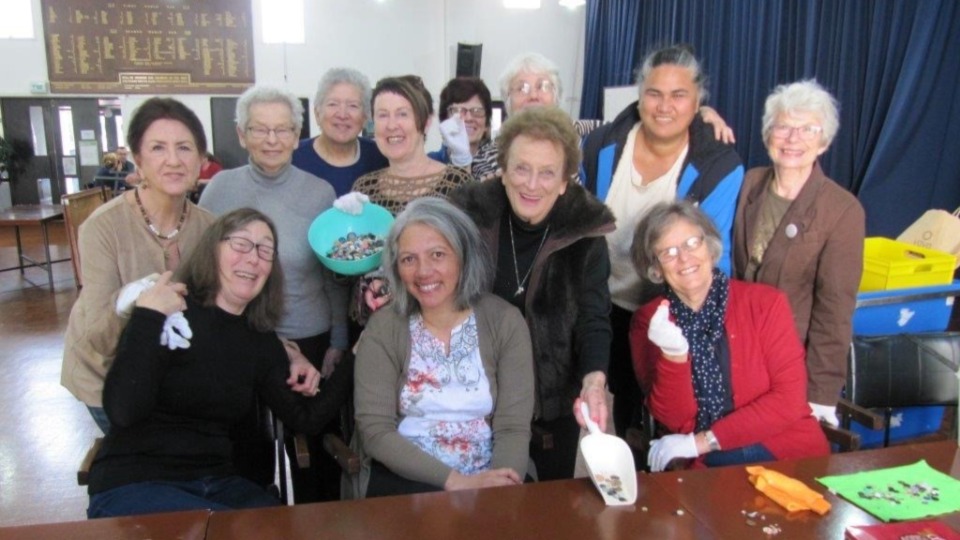 Volunteers agreed that getting to know each other had turned out to be the highlight of the whole project. Inge Woolf's words ring true, "If we all got to know each other there wouldn't be any more war."
The exhibition can be experienced at Te Manawa Museum in Palmerston North, New Zealand until June 2022.
I was one of the helpers on the button project. We had been cleaning buttons for almost a year and my mother became ill and passed away. I will remember forever my Jewish friends crossing faith traditions to enter The Church of Jesus Christ to mourn with me.
"When we love God with all our hearts, He turns our hearts to the well-being of others in a beautiful, virtuous cycle."
Thank you to the Universal Federation of Peace for the opportunity to speak. May God's blessings for peace be upon you all. In the name of Jesus Christ, amen.
Russell M. Nelson, "The Second Great Commandment," Ensign or Liahona, Nov. 2019.