Following three years of service, President John F. Larkin and Sister Robyn Larkin of the Marshall Islands/Kiribati Mission of The Church of Jesus Christ of Latter-day Saints, will complete their missionary labours at the end of June.
The extent of their involvement with the Kiribati government and the Kiribati people was highlighted recently when the President of the Republic of Kiribati, Taneti Maamau, and his wife, Mrs Teiraeng Mamau, hosted the Larkins at a farewell dinner in their home in Tarawa, Kiribati.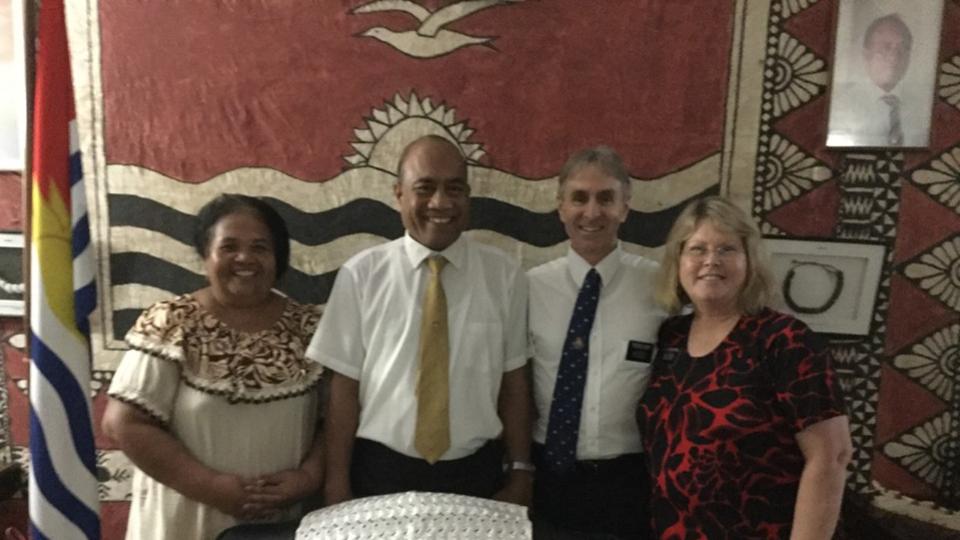 During the tenure of their mission, President and Sister Larkin met on a number of occasions with President Maamau and other government officials. They came together for discussions and initiatives relating to disaster response, humanitarian services, education and other endeavours.
Immediately following the 2018 ferry tragedy in Kiribati in which over 80 people, including youth and children, lost their lives, President Larkin and Iotua Tune, first counsellor in the mission presidency, called on President Maamau at his home to offer the support of The Church of Jesus Christ of Latter-day Saints. 
On another occasion, in 2019, following a severe storm that devastated the Kiribati islands of Tamana and Arorae, local missionaries of the Church loaded over 10 tons of Church-supplied food, shelter and medical supplies that were delivered to the affected islanders via the Kiribati government's patrol boat.  
President Maamau's recognition of the role of the Church was demonstrated when he provided opening remarks at a recent three-day training workshop for 51 Church leaders from all the outer islands.  
"We really cherish our friendship and association with President and Mrs Maamau, and the wonderful times we have shared with them," President Larkin said. "We have all committed to staying in touch."