Twice a year (in April and October), members of The Church of Jesus Christ of Latter-day Saints and interested friends gather to hear inspiring messages and music originating in Salt Lake City, Utah at the faith's worldwide general conference.
Senior leaders of the Church and others share messages on gospel principles or address significant issues of the day, with speakers encouraging individuals and families in their efforts to follow Jesus Christ.
In the past, members of the Church in many parts of the world, including in the South Pacific, have met the weekend after the faith's general conference to view the sessions together.
Due to COVID-19 restrictions on large gatherings in many areas, the Church has arranged to broadcast the 190th Semiannual General Conference via television and radio in many nations of the world.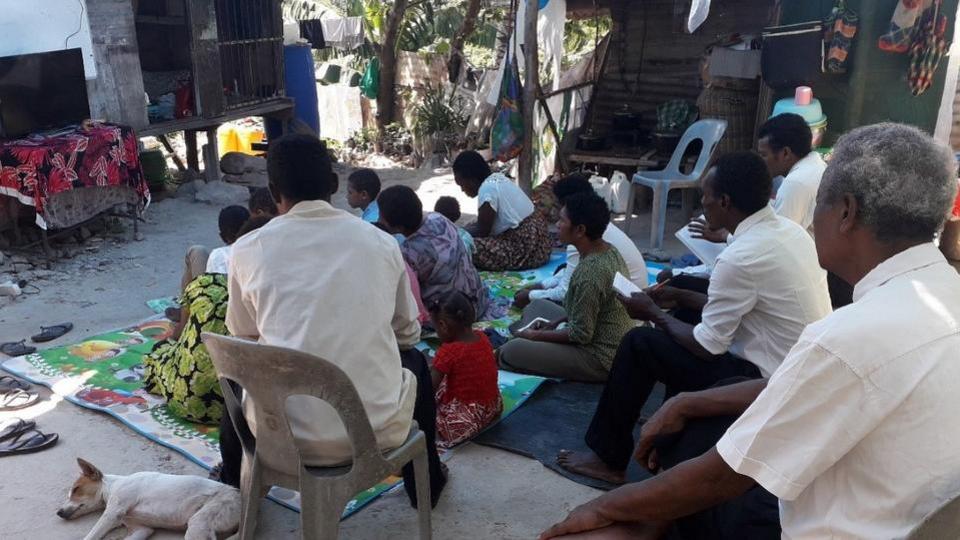 A worldwide Church events page notes: "As the world grapples with a global pandemic, economic hardship, social issues, political turmoil, and uncertainty, The First Presidency, members of the Quorum of the Twelve Apostles, and other General Authorities and General Officers of the Church will focus on the Savior's messages of love, understanding, acceptance, hope, connection, and inclusion." 
Here are five ways to watch conference.
To view, download, or stream the October 2020 general conference in Pacific languages online, click here.  
The following are two short promotional videos for use in inviting others to view conference:
An invitation for youth:
The following is a schedule of radio and television broadcasts in the South Pacific. Each is a different session of conference in chronological order — Saturday morning, Saturday afternoon, Saturday evening (women's session for ages 11 and older), Sunday morning, and Sunday afternoon. 
For quick reference to this list you may also click here. 
Australia, Adelaide
Channel 44
Saturday 10 October: 10.00am - 12.00 Noon (Saturday Morning Session)
Sunday 11 October: 3.00pm - 5.00pm (Sunday Morning Session)
Saturday 17 October: 10am - Noon (Saturday Afternoon Session)
Sunday 18 October: 3.00pm - 5.00pm (Sunday Afternoon Session)
Saturday 24 October: 10 am- Noon (Saturday Evening Session)
Sunday 25 October: 3.00pm - 5.00pm (Sunday Morning Session)
Australia, Melbourne
Channel 31
Saturday 10 October: 10:00am - Noon 
Saturday 10 October: 2:00pm - 4:00pm
Saturday 10 October: 6.00pm - 8.00pm
Sunday 11 October: Noon - 2.00pm
Sunday 11 October: 3.30pm - 5.30pm
Cook Islands    
BlueSky TV (live broadcast)   
Saturday 3 October: 6.00am – 8.00am    
Saturday 3 October: 10.00am – Noon    
Saturday 3 October: 2.00pm – 4.00pm    
Sunday 4 October: 6.00am – 8.00am    
Sunday 4 October: 10.00am – Noon
Fiji
Fiji TV Main Channel (Itaukei)
Saturday 10 October: 10.00am - 12.00 Noon
Saturday 10 October: 2.00pm - 4.00pm
Saturday 10 October: 7.00pm - 9.00pm
Sunday 11 October: 10.00a.m - 12 Noon
Sunday 11 October: 2.00pm - 4.00pm
Fiji TV 2 Channel (English)
Saturday 10 October: 10:00a.m - Noon 
Saturday 10 October: 2:00pm - 4:00pm
Saturday 10 October: 6.00pm - 8.00pm
Sunday 11 October: 10.00am -  Noon
Sunday 11 October: 2.00pm - 4.00pm
Fiji TV Main Channel (English)
Monday 12 October: 10.00am - 12.00 Noon
Monday 12 October: 2.00pm - 4.00pm
Monday 12 October: 8.30pm - 10.30pm
Tuesday 13 October: 10.00am - 12.00pm
Tuesday 13 October: 2.00pm - 4.00pm
FBC TV 2 Channel (English) —Through Walesi app or Walesi set top box
Saturday 10 October: 10.00am - Noon
Saturday 10 October: 2.00pm - 4.00pm
Saturday 10 October: 6.00pm - 8.00pm
Sunday 11 October: 10.00am - 12.00 Noon
Sunday 11 October: 2.00pm - 4.00pm
Kiribati
KIRI ONE TV and BPA Radio
Saturday 10 October: 10.00am - 12.00pm
Saturday 10 October: 2.00pm - 4.00pm
Sunday 11 October: 10.00am - 12.00pm
Sunday 11 October: 2.00pm - 4.00pm
Radio only:
Saturday 17 October 
2.00pm - 4.00pm (Women's broadcast)
New Zealand
Kordia TV
Saturday 10 October: 10.00am - Noon
Saturday 10 October: 2.00pm - 4:00pm
Saturday 10 October: 6.00pm - 8.00pm
Saturday 11 October: 10.00am – Noon
Saturday 11 October: 2.00pm – 4.00pm
Papua New Guinea
EMTV PNG
Saturday 10 October: 10.00am - Noon
Saturday 10 October: 3.00pm - 5.00pm
Sunday 11 October:  10.00am - Noon
Sunday 11 October:  Noon - 2.00pm
Sunday 11 October:  2.00pm - 4.00pm
American Samoa
BLUESKY TV (English)
Saturday 3 October: 5.00am - 7.00am
Saturday 3 October: 9.00am - 11.00am
Saturday 3 October: 1.00pm - 3.00pm
Sunday 4 October: 5.00am - 7.00am
Sunday 4 October: 9.00am - 11.00am
Samoa
TV 1
Saturday 10 October: 10.00 AM - 12.00 NOON
Saturday 10 October: 1.00 PM - 3.00 PM
Saturday  10 October: 4.00 PM - 6.00 PM
Sunday 11 October: 10.00 AM - 12.00 PM
Sunday 11 October: 2.00PM - 4.00PM
TV 3
Saturday 10 October: 10.00am - Noon
Saturday 10 October: 2.00pm - 4.00pm
Saturday 10 October: 6.00pm - 8.00pm
Sunday 11 October: 10.00am - Noon
Sunday 11 October: 2.00pm - 4.00pm
Radio Polynesia Samoa
Saturday 10 October: Noon - 2.00 pm
Saturday 10 October: 2.00pm - 4.00pm
Saturday 10 October: 6.00pm - 8.00pm
Sunday 11 October: 10.00am - Noon
Sunday 11 October: 2.00pm - 4.00pm
Tonga
Digicel Tonga - Channel 17 (LIVE)
Saturday 4 October: 5.00am - 7.00am
Saturday 4 October: 9.00am - 11.00am
Saturday 4 October: 1.00pm - 3.00pm
Sunday 5 October: 5.00am - 7.00am
Sunday 5 October: 9.00am - 11.00am
Tonga TV 
Saturday 10 October: 10.00am - Noon
Saturday 10 October: 2.00pm - 4.00pm
Saturday 10 October: 6.00pm - 8.00pm
Sunday 11 October: 10.00am - Noon
Sunday 11 October: 2.30pm - 4.30pm
Tonga Radio
Saturday 10 October: 10.00am - Noon
Saturday 10 October: 2.00pm - 4.00pm
Saturday 10 October: 6.00pm - 8.00pm
Sunday 11 October: 10.00am - Noon
Sunday 11 October: 2.30pm - 4.30pm