Elder Ulisses Soares of The Quorum of the Twelve Apostles of The Church of Jesus Christ of Latter-day Saints offered words of gratitude and encouragement this week to President Manutea Gay and volunteers of Emauta, a non-profit organisation affiliated with the Catholic Church in French Polynesia.
Emauta manages a network of six shelters for victims of abuse.
"We are so appreciative for what you do for the people," said Elder Soares.
"It tells me a lot about your heart and how close you are to Jesus Christ, because the life of Jesus Christ was to help and bless the lives of others, especially the ones who are in despair."
Elder Soares presented a donation from The Church of Jesus Christ of Latter-day Saints to support the educational needs and personal development of young women aged 11-18 years being cared for by Le Bon Pasteur (The Good Shepherd) shelter and children aged 3-11 years in the care of Te Maru Pererau shelter.
"I hope this donation will help you to accomplish this beautiful, beautiful act of love for people," said Elder Soares.
"We pass this to you as a symbol of our appreciation for your great effort to help this group of people, with much love and respect for everybody."
Elder Soares commended the volunteers. "If we would have more people in the world like you, we would have less conflict, we would have more love among people and we would be walking together towards our Heavenly Father."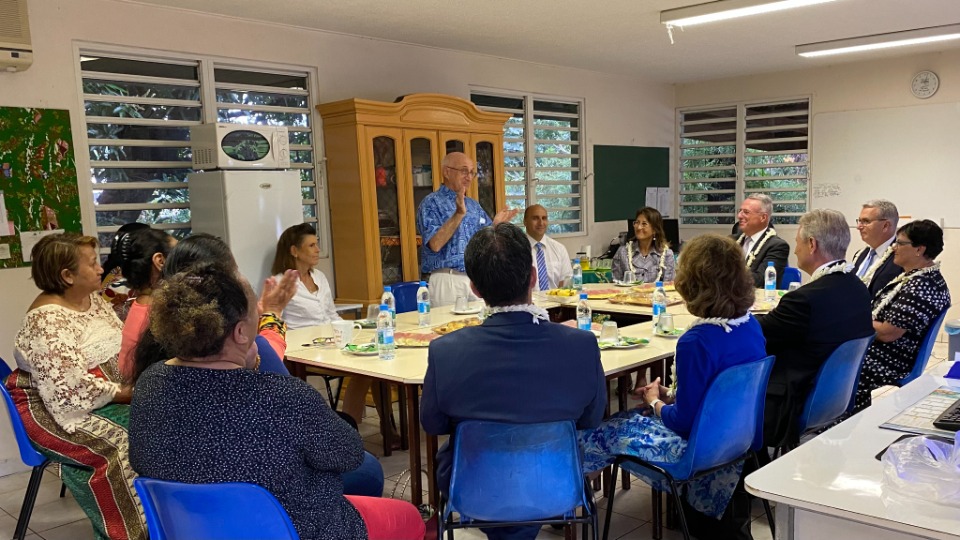 Elder Soares was accompanied by his wife Sister Rosana Soares; General Authority Seventy, Elder Carlos A. Godoy and his wife Sister Monica Soares Brandao; and Pacific Area President Elder K. Brett Nattress and his wife Sister Shawna Nattress.
Pacific Area Seventy, Elder Frederick Riemer and French Polynesia's Church Welfare and Self-Reliance Manager, Manea Tuahu accompanied the group.