For four young missionaries serving in the New Zealand Auckland Mission of The Church of Jesus Christ of Latter-day Saints, helping individuals, families and communities is a natural part of striving to follow Jesus Christ.
The missionaries are from four different countries. Devin Bartholomew (United States), Nomani Na'a (Tonga), Jaz Parsons (Australia) and Kamilo Lene (New Zealand).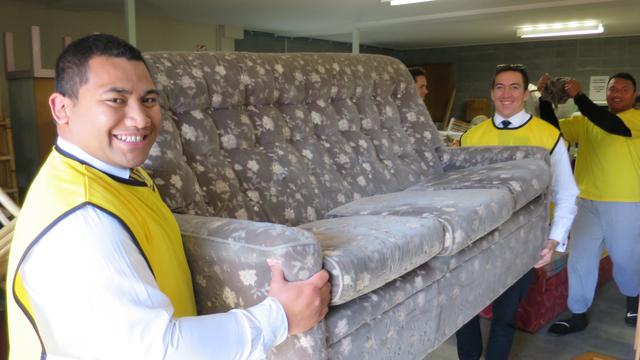 They are all in the early 20's and are at different stages of their two-year missions. But the one thing that unites them, they say, is their desire to serve others as Christ taught and showed.
"Service is the natural result of a heart filled with the pure love of Christ," Elder Bartholomew says.
"Proselyting itself is just a form of service for our brothers and sisters. Service of a more temporal kind comes just as naturally and instinctively for a Christian as sharing the gospel.
"I always feel closer to God and to Christ when I heed the call to serve in any way that is needed."
Fellow missionary, Kamilo Lene, puts it this way: "Becoming a disciple of Christ means to walk as He walked, serve as He served and to live like He did. The Saviour came, not to be served, but simply to serve.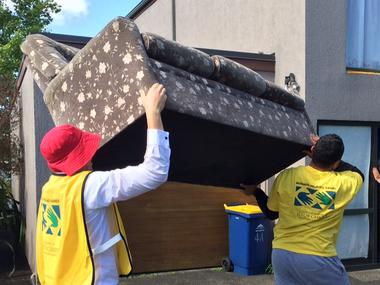 Each week Mormon missionaries like these four find ways to help people in need. From spending time with residents in a retirement home to doing yard work for a family, the aim is the same— lift lives and spread smiles wherever possible.
Yesterday, Elders Bartholomew, Lene, Na'a and Parsons helped a family of four who have recently moved to New Zealand from Syria. They loaded and delivered beds, a couch and other household items which were donated by Auckland's De Paul House.
As they bring the furniture into the family's home, the young missionaries laugh, joke and make friends with the children.   
"Doing good to others is not a duty, it is a joy," Elder Lene says with a smile.