Residents of the village of Navatuyaba in the Fijian Province of Rewa are benefiting from a partnership between two relief agencies.
The Church of Jesus Christ of Latter-day Saints and the Adventist Development and Relief Agency (ADRA) are working together to bring increased food security to a region of Fiji that suffered from food shortages during the lockdown periods of the pandemic.
During a recent visit there, leaders from the Fiji government's health ministry and both relief agencies met with villagers who showed them their backyard gardens and other plantings. 
Permanent Secretary for Health and Medical Services, Dr James Fong; and Dr Ifereimi Waqainabete from the Fiji Ministry of Health Medical Services were part of the discussions. They said that the partnership has greatly benefitted the people in the area.
Paul Reid, manager of Welfare and Self-reliance for The Church of Jesus Christ of Latter-day Saints in the Pacific, said, "We are pleased to work with our long-time partners at ADRA to help bring better food security to the people of this area. We are also looking for new ways in which we can assist further, in partnership with the ministry."
"A lot of Fijians are in dire need of food and their livelihoods have been greatly affected due to the COVID-19 crisis," says ADRA Fiji Country Director, Iliapi Tuwai. ADRA is assisting more than 1,000 families across Fiji with food rations and financial assistance.
According to a recent Fiji Times article, the team visited the project site and backyard gardens, and listened to stories from villagers about how the project has impacted their lives by providing them with much needed livelihood support.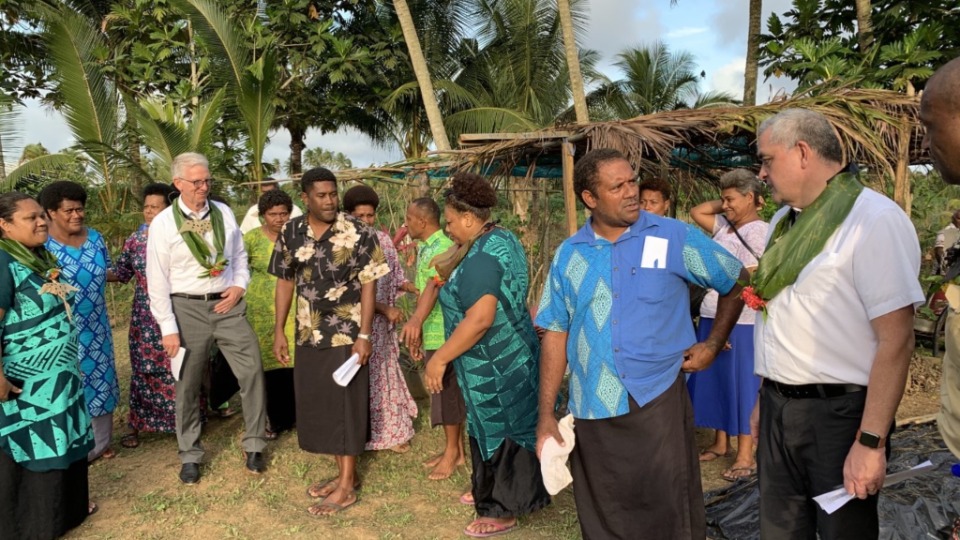 Villagers were presented with farming kits from the Church, as part of ADRA Fiji's food and nutrition security, community resilience and economic sufficiency project.
The project focuses on vulnerable communities that were negatively impacted by COVID-19 and in need of immediate support with respect to food security, economic self-sufficiency, and building resilience.
Village headman, Mario Nudei, expressed his appreciation for the program. 
"We learned about food processing and value adding so we are able to utilize the available resources such as flour production from root crops.
"With the rise in the cost of living, the project has motivated us and supported our livelihood.
"We are no longer buying flour from the shop because we are making our own. Women in the village get together once a week to produce flour. We are grateful to ADRA and [the Church] for their support."