Note: COVID-19 conditions in New Zealand are such that an in-person stake conference was permissible. 
Elder Kazuhiko Yamashita of the Pacific Area Presidency was joined by Elder Glenn Burgess to reorganise the stake presidency and call a new stake president for the Hastings New Zealand Stake of The Church of Jesus Christ of Latter-day Saints on the weekend of 20-21 February 2021.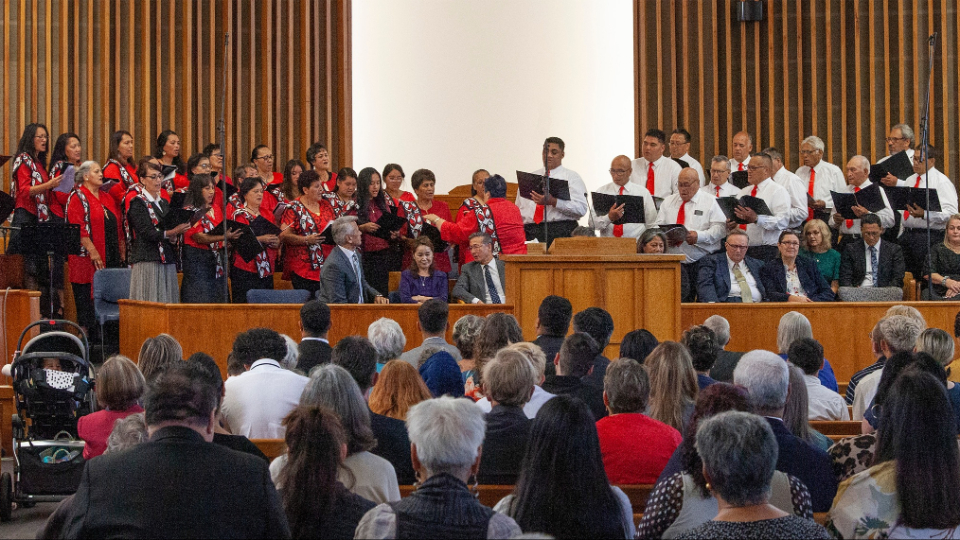 A stake president and his counselors lead a number of Latter-day Saint congregations in a geographical area. 
Simon R. Thomson was called as president with Wi T. Ormsby as first counselor and Sandy Bates as second counselor.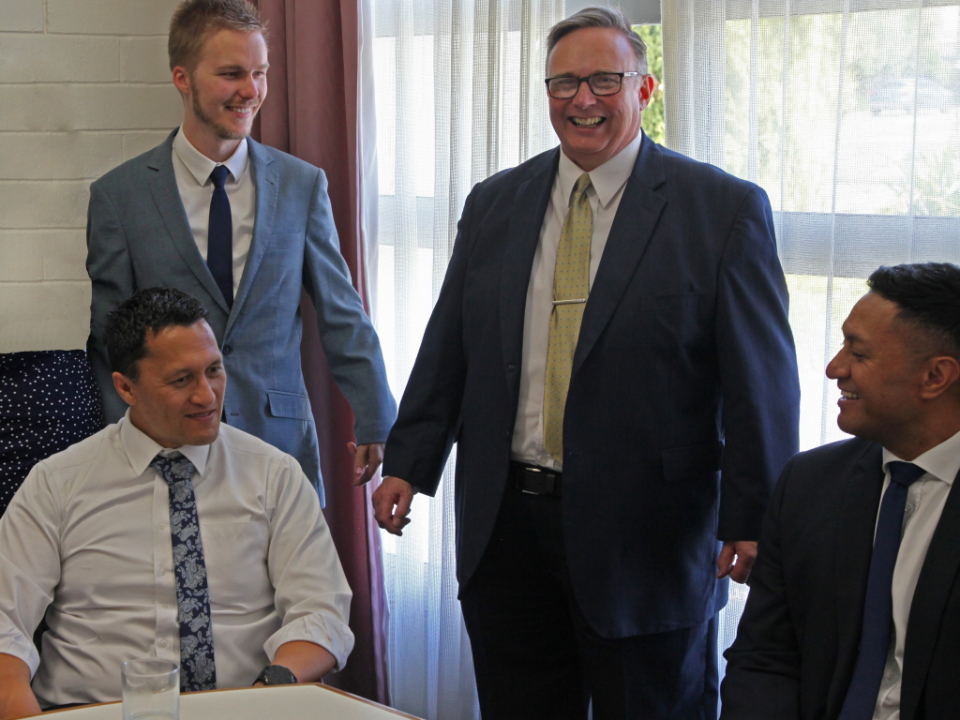 Incoming Stake President Simon Thomson is a school teacher who values and loves teaching so much he always carries a white board marker in his pocket. 
"Hawke's Bay is known as the fruit bowl of New Zealand," he said. "We have such rich and beautiful soil that we can grow anything. It is what we are known for." 
"Spiritually we can grow beautifully faithful people. We have a rich and wonderful spiritual legacy. That spiritual soil gives us nourishment and strength. Let us be known in this community for our physical and spiritual fruit."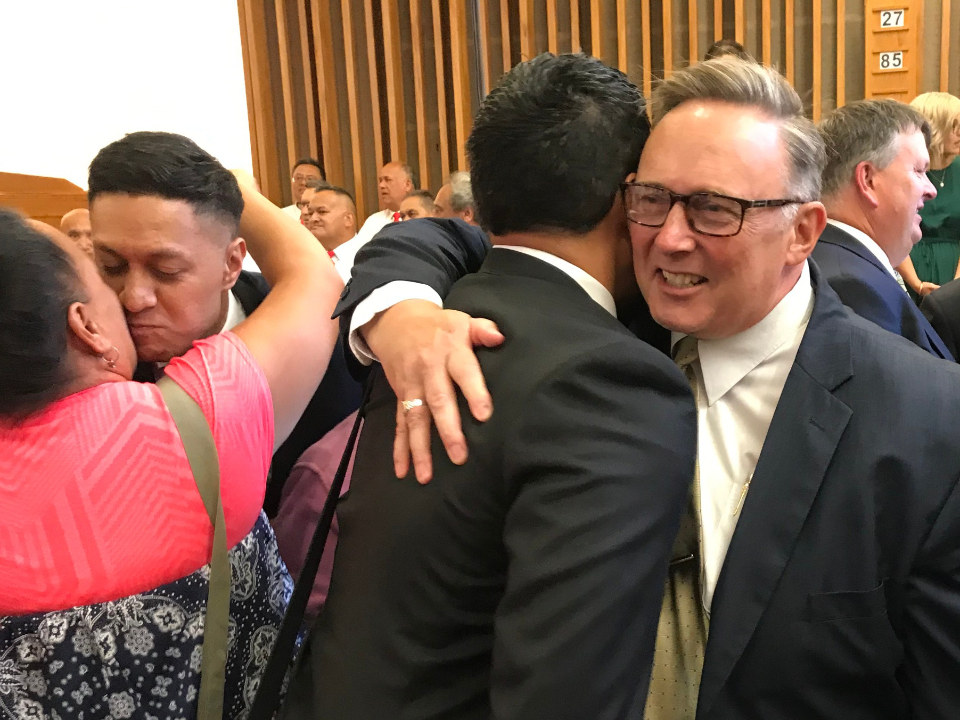 Elder Yamashita thanked outgoing stake president, Charles Ruwhiu, and his family, for nine years of faithful service. He also expressed thanks to his counselors and their families.  
He urged stake members to show their love for the Lord and the new stake presidency by loving and serving one another.   
Elder Yamashita also counseled members to hold a current temple recommend. "Knowing you are worthy to go to the temple brings us peace," he said. "And our Church teaches us about the joy of the gospel. When we come to church, let us show each other our joy in serving."  
Elder Burgess talked of ways to invite people to listen to the message of the gospel. "Let us make invitations in small and simple ways," he said. "We exercise our own faith when we invite the Spirit to help us do things we are not used to doing."  
New Zealand Wellington Mission President, President David J. Thomson, talked about the value of inviting someone who is less active in the Church to come and join in. He cited the example of the prophet Alma in the Book of Mormon who called on Amulek, a less active member, to come with him to teach the people of Ammonihah. They went on to have great success inviting and helping many people come closer to God (see Alma 8:19-32).  
Speaking of the leadership changes, Charles Ruwhiu said, "The Lord had already called someone to be the new stake president and it was up to Elder Yamashita and Elder Burgess to find him." 
"Counsel with the Lord in all your doings and He will answer you. He wants us to return to His presence and now is time to prepare for His coming. Make your time count," he said.  
Charles Ruwhiu's wife, Flo Ruwhiu, said, "I felt the same Spirit today that I felt nine years ago when my husband was made stake president. This is the Lord's work. I am grateful for a husband who puts the Lord first."   
Sister Yamashita shared how her young grandchildren have scripture study every evening,even if it was late. "I was impressed with my daughter who said to her children, 'Come on guys, let's have scripture study!' and they did," she said. 
"I learned from them that we really can find eternal happiness by being consistent in what we do."  
The conference was held in the Church's meetinghouse in Bridge Pa, near Hastings ─ a significant New Zealand Latter-day Saint location.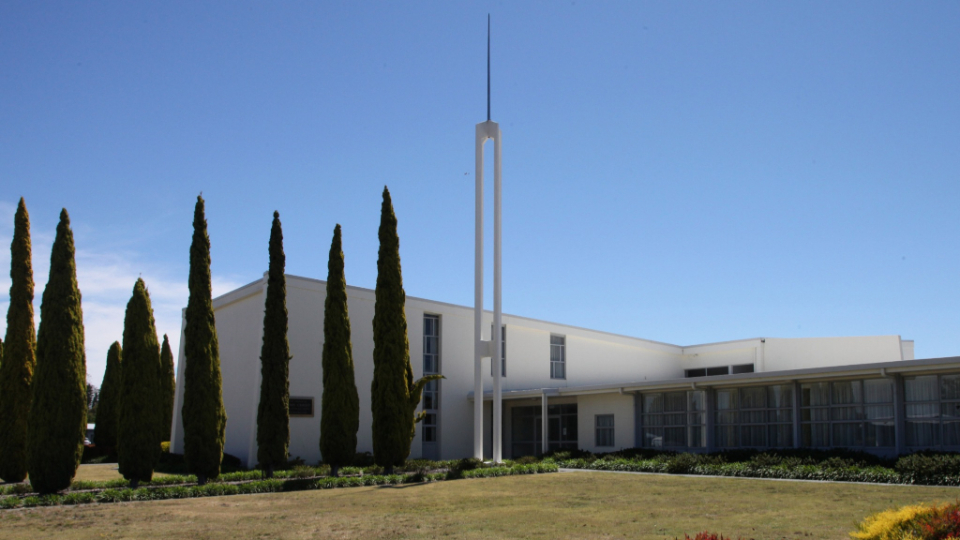 The meetinghouse is near the site of the former Māori Agricultural College (MAC) which helped educate many young people including several leaders in the Church.  
In a ceremony last November, Elder Yamashita joined Elder Ian S. Ardern at Bridge Pa to unveil an historic marker commemorating the many contributions made by MAC staff, students and families which supported much of the growth and development of the Church in New Zealand and the South Pacific.