Kelvin Kansan decided to withdraw from the Papua New Guinean men's soccer team training squad in order to serve as a missionary for The Church of Jesus Christ of Latter-day Saints.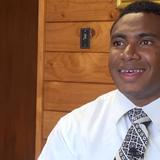 Now he is teaching people about Jesus Christ and serving communities in Hamilton, New Zealand.
He does not regret his decision which meant that he missed playing for his country at the South Pacific Games earlier this year.
Watch a new video featuring Elder Kansan talk about his decision to serve as a missionary.