After meeting with Latter-day Saint leaders last week and discussing the Church's family history resources, Fiji Prime Minister Hon. Prime Minister Rear Admiral J.V. Bainimarama paid a visit to one of the Church's family history centres yesterday.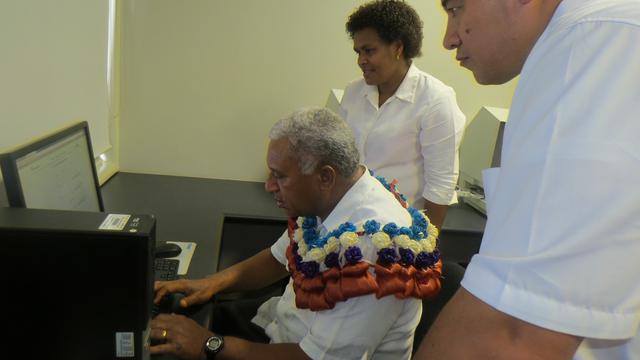 The Prime Minister was accompanied by the Permanent Secretary of iTaukei Affairs (Fijian Affairs) Mr Savenaca Kaunisela, and the Deputy Chief Executive Officer of the iTaukei Affairs Board, Mr Apakuki Kurusiga.
Latter-day Saint Family History Country Director, Mr Tueri Senikuraciri, explained to the visitors that the Church's family history centres held copies of birth, death and marriage records of Fijians, Rotumans and members of the general population from 1874 to 1989. Indian ancestral records date from 1912 to 1989.
Mr Senikuraciri also said the eight family history centres operated by the Church in Fiji were open to all people, free of charge.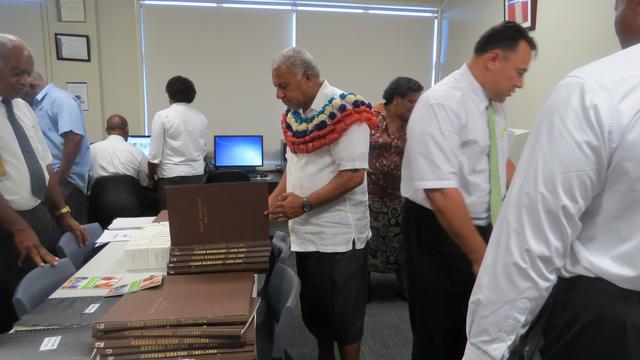 After spending over an hour in the family history centre, the Prime Minister also visited the Church's Fiji Distribution Centre where scriptures, teaching manuals, journals, magazines and other items are available.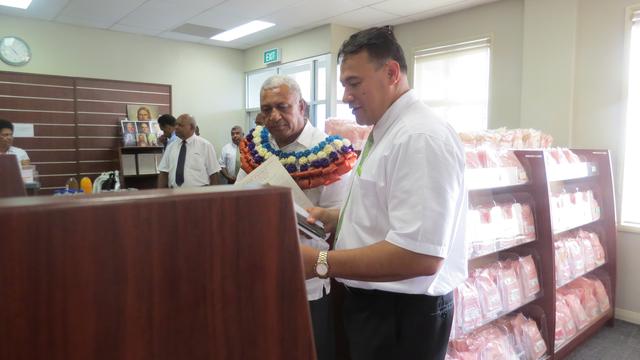 At the end of the visit Prime Minister Bainimarama thanked everyone for hosting him and said that his eyes had been opened to what the Church does. He said that he loved the facilities and loved what he had seen.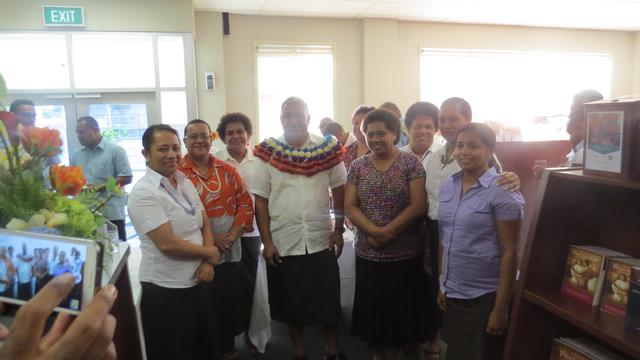 FamilySearch is the largest genealogy organization in the world. Since 1894, FamilySearch has worked with archives, libraries, and churches in over 100 countries to facilitate economical access to records that help people find their ancestors.
Every month, over 3 million people use FamilySearch records, resources, and services to learn more about their family history. These records and services are available online at FamilySearch.org, or through over 4,600 family history centres in 126 countries, including the renowned Family History Library in Salt Lake City, Utah.
FamilySearch is a service provided by The Church of Jesus Christ of Latter-day Saints. FamilySearch's commitment to helping people connect with their ancestors is rooted in the Mormon belief that families are meant to be central to our lives and that family relationships are intended to continue beyond this life. Because interest in family history is not limited by culture, ethnicity, or religious faith, FamilySearch's resources are available to everyone who wants to discover more about their family and their heritage, from church records in Europe to oral histories in Africa.
Watch videos to learn more about FamilySearch and why many Latter-day Saints do family history research.