Members of The Church of Jesus Christ of Latter-day Saints welcomed President Henry B. Eyring, First Counselor in the Church's First Presidency, and Elder Quentin L. Cook of the Quorum of the Twelve Apostles, to the Pacific island nation yesterday.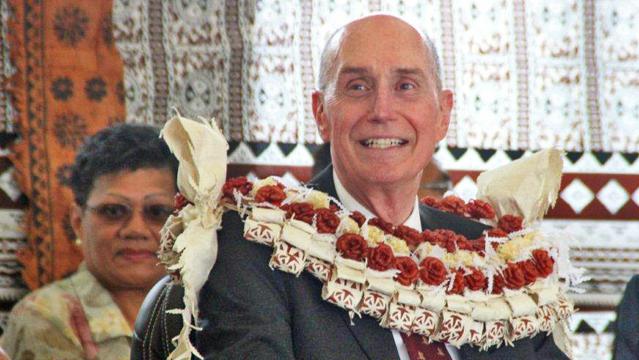 The senior Latter-day Saint leaders are visiting Fiji to participate in tomorrow's re-dedication of the Suva Fiji Temple which has been closed for over a year for renovations.
Members of the Church's Pacific Area Presidency, Elders Kevin W. Pearson, O. Vincent Haleck and S. Gifford Nielsen, and the Church's Temple Department Executive Director, Elder Kent F. Richards, are also in Fiji for the temple re-dedication and associated activities. 
The visiting Latter-day Saint leaders are being accompanied by Mary Cook, June Pearson, Peggy Haleck, Wendy Nielsen and Marsha Richards.
The guests were honoured by way of a traditional Fijian welcoming ceremony yesterday—called "qaloqalovi"—at Naulu, near Suva. It was presented by members of the Church from the Nausori Fiji Stake.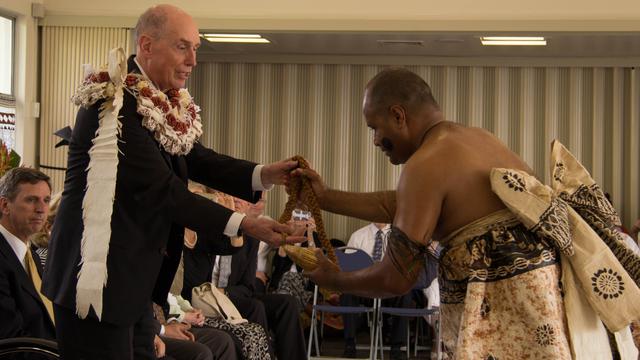 President Eyring told those who welcomed him and those traveling with him, "President Thomas S. Monson asked me to come here. He would want to be here, so I'm going to try to tell him what happened; but there is no way I can describe it as wonderful as it was."
"I just wish he could be here as he loves you and the Lord loves you, and we are here because the Lord is so proud and happy to see your faithfulness," President Eyring said.
He added, "There is a temple of God here and it's because of the faith of you wonderful people that the Lord could do that and I'm grateful that he allowed me to come here to be with you and extend the love and blessings of the Lord to you and your families and all others who live here. You are wonderful people and children of God."
President Eyring told those in attendance that the scriptures talk of those of the isles of the sea whom the Lord has never forgotten.
"The Lord does not forget you," President Eyring said. "He loves you."
One local Latter-day Saint who attended the welcome ceremony, David Atalifo, said, 'It was an honour to witness a true servant of the Lord here. Our hearts were filled with joy."