Speaking at a conference of The Church of Jesus Christ of Latter-day Saints in the Pacific nation of the Cook Islands on Sunday 22 May, Elder Neil L. Andersen of the Quorum of the Twelve Apostles, counselled Latter-day Saints to "not be afraid to be different."
"The gospel that we proclaim is bold," Elder Andersen said.  "We cannot be afraid to be different, to be unique."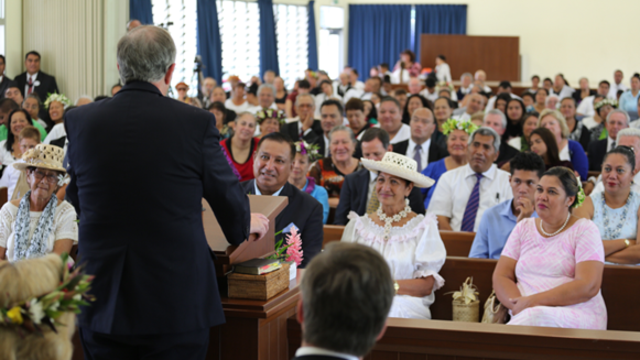 "We need your faith, your goodness and your kindness," he said.
He invited the youth in attendance to follow the Saviour and try to be perfect like Him. 
Elder Andersen was accompanied on his visit to the Cook Islands by his wife, Sister Kathy Andersen, their son Derek, and daughter-in-law Erica.
Pacific Area president of the Church, Elder Kevin W. Pearson, and Sister June Pearson also travelled with Elder and Sister Andersen to the Cook Islands.
Others visiting the Cook Islands included President Fredrick Balli and Sister Robyn Balli of the New Zealand Auckland Mission of the Church, which includes the Cook Islands.
During his remarks, Elder Andersen also said, "Apostles are ordinary men who are given an extraordinary blessing to be close to the Saviour and teach of Him."
He said that for the Saviour to return to the Earth there needs to be a righteous people in every nation.
Elder Andersen told the Cook Islands Latter-day Saints that they will grow and strengthen as they reach out in faith and share the gospel of Jesus Christ with others.
"Let us open our arms," he said. "This is a special place. Let everyone come. If you approach this challenge with faith and courage it will happen."
"We need strong members, people who love the Lord, who are willing to make covenants with the Lord."
He also said the Church needs young people who love education.
The previous day, Saturday 21 May, the Andersens made a short trip to Mangaia, the most southern island in the Cook Islands group—where Derek once served as a missionary.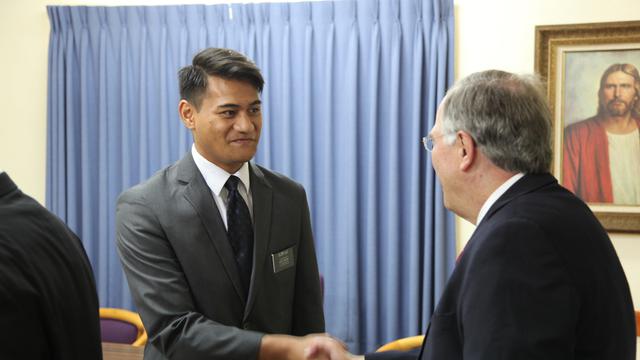 "The Saints in Rarotonga and Mangaia were very excited to see and meet a member of the Quorum of Twelve Apostles, and welcome his son Derek back to Cook Islands," said Elder Pearson. 
"There were Church members and others who knew him then and flocked to meet him again as he arrived." 
Speaking in a meeting to Church members in Mangaia, Elder Andersen said, "From very simple things we learn the eternal truths of God. The truths are the same no matter where you live in the world."
He said that his son learned and loved the principles that were taught to him by the people in Mangaia while he served among them.
Referring to the Church in Mangaia, he said, "The future of the Church lies in the youth. We need to strengthen them."
"Share your faith with the younger ones. Sit them down and read the scriptures with them. Talk to them about the Saviour. Teach them," he counselled.
That evening, back in Rarotonga, Elder Andersen and his family members attended a dinner and celebration of Cook Islands culture.
The Church of Jesus Christ of Latter-day Saints has five congregations in the Cook Islands and over 1,800 members.  The first convert of the Church was baptized in 1942.