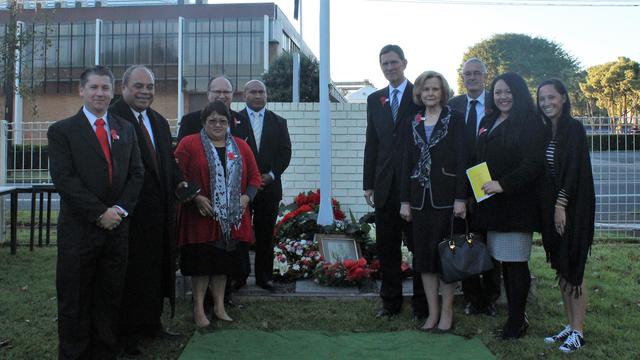 The Mount Roskill Stake (a group of congregations) of The Church of Jesus Christ of Latter-day Saints, neighbors and friends commemorated ANZAC Day early Tuesday morning, 25 April 2017 at a chapel on Pah Road in Mount Roskill. Honored guests at the service included Elder Craig A. Cardon, of the Seventy and Second Counselor in the Pacific Area Presidency, and his wife, Debbie Cardon; President Anthony S. Wilson, president of the Mount Roskill Stake, and his wife, Makere Wilson; President Frederick K. Balli, Jr. and his wife, Robyn Balli; MP for Mount Roskill, Michael Wood; MP for Mangere, Sua William Sio; and Harry Doig, Chairman of the Puketapapa Council Board.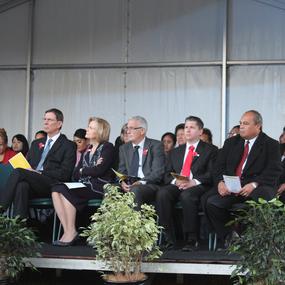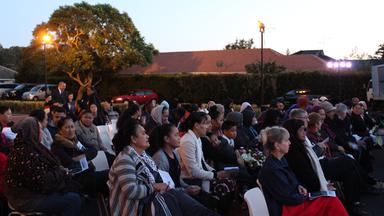 Between 200-300 attended the early morning ceremony, with many holding photos of relatives who had served in previous conflicts fighting for freedom all around the world. The formal part of the commemoration included the laying of wreaths by community and Church leaders followed by children of each of the local congregations. The ANZAC ode was read by local Bishop Latu Pasa and the last post was played by Abraham Toa.
Key note speaker Kelly Klink, a lecturer in anthropology and Maori history at Waikato University, spoke of her grandfather, William Grant, who fought in World War II and was captured and taken prisoner in the battle of Kalamata during the war in Greece. Family members remember that, following the war, his humble nature and his service had an impact on the remainder of the family. With the assistance and encouragement of his wife, Grant later converted to the Church and both helped to build the Pah Road chapel where the ANZAC Day service was held. The Church became an important part of his life and his family.
Anne Papali'I spoke of the history of her Maori family who fought in World War I. Despite ill feelings shared by many Maori toward Great Britain, they joined the military and fought for freedom.
The concluding speaker, President Wilson noted:  "We today remember the lives of those who have placed service to their fellowman and country above that of self." He told the story of Jason Pore, a decorated New Zealand soldier who received a life-threatening wound in Afghanistan, as reported in the New Zealand Herald. "Pore noticed an American tradition while participating in the Invictus Games in the U.S. He …. saw people shake the hands of U.S. service personnel and offer thanks for their service - an act he would like to see in New Zealand."
President Wilson quoted previous Church president, Spencer W Kimball, and a verse from the Book of Mormon, both advocating service to our fellow man. He counselled the youth of New Zealand "Today we remember the service of those who have been before. May we each learn a lesson from the past and be willing to think not of ourselves but service to our fellowman, community and country."