Despite some restrictions on travel during the COVID-19 pandemic, leaders in The Church of Jesus Christ of Latter-day Saints in the Pacific Area are continuing to meet with members and friends of the Church, albeit virtually.
Some in-person meetings have been possible over the last two years, especially in New Zealand where the Pacific Area Presidency ─ Elder Ian S. Ardern, Elder K. Brett Nattress and Elder Kazuhiko Yamashita ─ are based. But most meetings with Church members and missionaries across the South Pacific region have been virtual.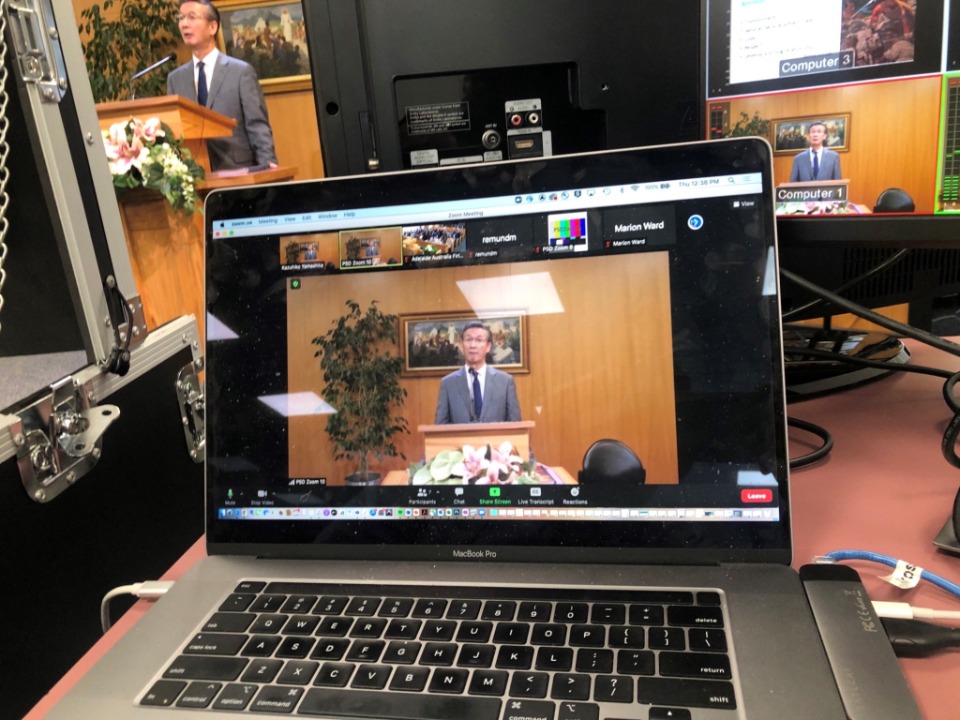 The Church's communication director for the Pacific Area, Richard Hunter, said, "Supporting our leaders as they continue to meet with and share messages virtually with missionaries, members and friends of the Church across Australia, New Zealand and the rest of the South Pacific is a complex effort. But the results are wonderful. Hearts are touched, lives are lifted, and families and communities are strengthened through these virtual gatherings."
Notwithstanding the challenges, Christ-centred ministering is continuing, and uplifting messages are being shared.
One example is a recent meeting Elder Yamashita held with members and friends of the Church in Adelaide, South Australia ─ all conducted virtually. Elder Yamashita was in Auckland, New Zealand, but he was able to share messages of hope and faith with people in South Australia, all via technology.
Elder Yamashita emphasised four teachings of President Russell M. Nelson with the South Australian Latter-day Saints. He encouraged those in attendance to help in the gathering Israel on both sides of the veil; to attend sacrament meeting (worship service) every Sunday; to hold a current temple recommend; and to participate in home-centred gospel learning.
Speaking of attending worship services and other Sabbath meetings, Elder Yamashita quoted from a Church article in the New Era (now known as For the Strength of Youth magazine): "The sacrament is a beautiful time to not just renew our baptismal covenants, but to commit to Him, to renew all our covenants, all our promises, and to approach Him in spiritual power that we did not have previously."
He urged Church members to "mark scriptures that mean something to you, and note the reason why. Listen carefully for action items, especially from the Holy Ghost, write them down, and then follow through on them."
Quoting President Russell M. Nelson, Elder Yamashita said: "Whenever any kind of upheaval occurs in your life, the safest place to be spiritually is living inside your temple covenants!"
Elder Yamashita observed that President Nelson taught that "the temple would be the safest place in Salt Lake City in an earthquake, just as living within temple covenants will be the safest place spiritually. He encouraged us to have a firm spiritual foundation."
Notwithstanding the challenging times the world is facing, leaders of The Church of Jesus Christ of Latter-day Saints are continuing to offer love, teachings and encouragement to members and friends of the Church through in-person gatherings, where possible, and also through virtual meetings.