Elder Donald L. Hallstrom of the Presidency of the Seventy of The Church of Jesus Christ of Latter-day Saints, told over 1,300 Auckland youth last night "that when you truly know, deep in your heart and soul that you are a child of God, you can move through the difficulties of life with confidence and peace."
Elder Hallstrom was accompanied by his wife, Diane Hallstrom, who also spoke to the youth. Elder S. Gifford Nielsen of the Seventy and a member of the Pacific Area Presidency, and his wife, Wendy Nielsen addressed the young people as well.
Elder Paul R. Coward of the Seventy, and his wife, Julie Coward, were among the other Church leaders in attendance.
Recognising the diversity of cultural and ethnic backgrounds represented among the youth, Elder Hallstrom said that we should, "Live together, love together, worship together, and appreciate the differences without being critical."
"It doesn't matter where we come from," he said. "What's important is that we honour and be grateful for our earthly heritage, but always remember that the foundation, the key, is that our greatest heritage is that we are a son or a daughter of a living Father in Heaven."
"Our relationship with God is the most important relationship for each of us, here in this life and in the next."
"We live in a world of confusion, with many distractions," he said. "We're encouraged to 'Just have fun,' and 'Do what you feel is enjoyable.'"
"Getting money and possessions, power or position, and influence over others. These things are presented as what life is about."
"Sooner or later," Elder Hallstrom warned, "we will be disappointed if these things are our main focus."
"Understanding who we are is of infinite worth. We are children of God. In our minds, hearts, souls, this is our identity. When we know this, when difficulties come upon us, family problems, bullying, lack of confidence or security—with this understanding we can move through these difficulties safely."
He added, "When we establish this foundation of understanding in our lives, we can decide what of the world to embrace, and what to discard."
Elder Hallstrom urged the young people to: "Open your heart, feel something tonight, take a step towards the Lord. 
"I wish we could speak with you one by one by one this evening," he said.
Elder Hallstrom testified of Jesus Christ and His Atonement. " No matter what our ethnicity or nationality; no matter what we have done—if we repent; no matter what has been done to us; we are not beyond the reach of the power of the Atonement of Jesus Christ."
"Take a step forward, towards the Lord."
During his remarks, Elder Nielsen invited two young men, Cole and Josh, to come up to the pulpit to share their feelings about the Atonement of Jesus Christ and how it helped them in their lives.
Sister Hallstrom encouraged the youth to be "quick to observe, prompt and obedient to the Lord."
Sister Nielsen asked a young woman in the congregation, Ana, to come to the pulpit to share her feelings about a recent "For the Strength of Youth" conference in Auckland.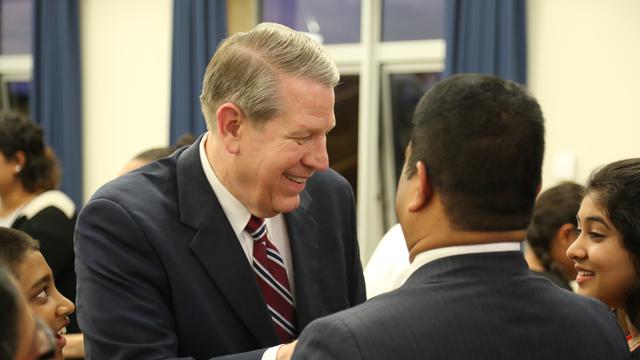 After the devotional ended, 12-year-old Cathy said that Sister Nielsen and Ana's comments made her excited to attend the next "For the Strength of Youth" conference.
Another attendee, Carl, 15, said: "The message that was most powerful to me was the need to build a strong foundation now, and not procrastinate my preparation to serve the Lord."
His friend, Russell, also 15, was excited about Elder Nielsen's remarks about sharing the gospel of Jesus Christ with others.
Grace, 13, said the devotional "was brilliant."
"When the speakers were talking to us, the Holy Ghost's presence was really strong. They were really inspiring and just listening to them made me feel very happy."
Grace added, "When we all sang hymns together it was so exciting to have over a thousand voices all singing, "I am a child of God," in unison.