A medal ceremony recognising the outstanding indexing efforts of three youth from Christchurch, New Zealand was held on Sunday, 7 November 2021.
Elder Ian S. Ardern, Pacific Area President of The Church of Jesus Christ of Latter-day Saints, attended virtually.
Elder Ardern said, "I know there are many, on both sides of the veil, who will benefit from the tremendous work done by those who participated in the 'Indexathon.' In a very real way, the participants have made it possible for thousands to receive essential ordinances."
Inspired by Church leader, President Russell M. Nelson, and his message to gather Israel, Church members of from Christchurch Stake set what they thought was an ambitious goal to index 250,000 records in 2021.
They hit their target in May 2021, so they set a loftier goal to index one million records.
Christchurch Stake President Uliki Moea Pongia counselled with Church youth leaders and together they planned an Indexathon - a cross between a marathon and indexing - to take place during the Tokyo Olympics.
Youth participants reported a strengthening of their testimonies, feeling the spirit more and building a sense of community with others from their stake.
President Pongia said, "Every stake presidents' prayer and hope is for the next generation to have a strong foundation in the Lord Jesus Christ, and to have opportunities to strengthen their testimonies of the Gospel and know they are loved."
Young people had two weeks to index as many names as they could. Youth met online for an opening ceremony, to check the leader board and receive regular updates and encouragement from their leaders.
Close to 300,000 names were processed by youth participants during the two-week Indexathon. The Christchurch Stake achieved its one million mark in just three months. The Stake has amassed an incredible 1.1 million to date.
Gold medal winner Tevita Tu'itupou of Cashmere Ward indexed over 17,000 records. "I felt good because I knew I was doing a good work to help others who had already passed through the veil," Tevita said. "I also felt the spirit cheer me on my journey through indexing."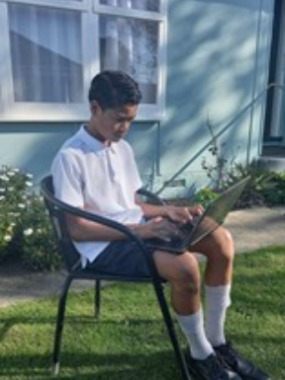 Tevita added, "I learnt that you can do something spiritual instead of video games. I also learnt more skills which are memorizing the keys on my computer, writing sentences faster, and to be able to write people's names so much easier and quicker, and to pronounce them correctly."
Silver medalist Sarah Ormsby of Mona Vale Ward, indexed 13,556 records. She learned that working as a group with a common goal was a strong motivation to do indexing. "It strengthened our testimonies and our relationships," Sarah said.
Sarah noticed that serving God through family history also brought the young men and young women closer together.
Bronze medalist Seth Taleni, also of Mona Vale Ward, processed 12,505 records. He said, "The Indexathon helped me to feel part of the missionary work on the other side of the veil. Doing it together with my ward youth is a lot more fun. This motivates me to keep going."
Seth explained that what started for him competitively ended spiritually. "As I realised the impact this could have on the eternal salvation of those on the other side of the veil, I came to realise that this is the Lord's work and I am truly grateful to be a part of it."
According to FamilySearch.org, indexing is a volunteer transcription effort that makes valuable genealogical records freely searchable online. Since FamilySearch indexing began in 2006, this unprecedented crowdsourcing effort has produced more than one billion searchable records.