LDS Charities, an arm of the humanitarian efforts of The Church of Jesus Christ of Latter-day Saints, just completed a renovation of a school building at Vaini GPS containing six classrooms.
The extensive remodelling project went from approval to hand-over ceremony in less than two months.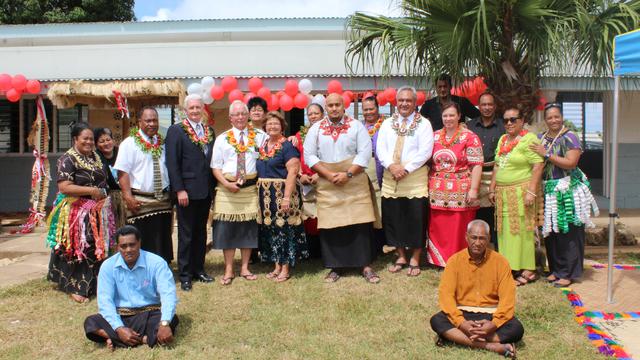 "The day after we announced the project was approved, they started work.  It was amazing," said Kent Murdock, who along with his wife Linda are the Church's humanitarian missionaries in Tonga.
The Murdocks, along with PTA President Tevita Cocker, organized the project and saw it through to completion.
Renovations included gutting the interior and cutting large openings for new windows designed to allow maximum light and air flow into the classrooms. Doors and the veranda roof were replaced.  Interior walls were built.
The building was painted, tile was laid, folding doors were installed between classrooms, the new large windows were put in place, new blackboard surfaces were provided and the exterior was spruced up.
The surrounding grounds were cleaned up by many of the 475 students who attend the school in preparation for the hand-over ceremony.
The ceremony—which included speakers, a ribbon cutting, dancing and singing—was attended by students, teachers, administrators, parents and community leaders.
Special guests included the Honourable Tevita Unga; PTA President Tevita Cocker; Senior Education Officer from the Ministry of Education, Pelenatita Tuipulotu; President Leitoni Tupou of the Latter-day Saints' Tonga Nuku'alofa Mission, his wife Sister Lori Tupou; and the Church's Tongan Service Centre manager, Garrick Parr.
Huelo Lolomana'ia, Principal of Vaini GPS, was the master of ceremonies. Tevita Cocker, the Honourable Tevita Unga and President Tupou were among those who spoke at the event.
"We are so grateful for the Church's help. There is not enough words to describe how very grateful we are for what you've done for us," said PTA President Tevita Cocker.
The Honourable Tevita Unga expressed thanks for the help provided to renovate the 30 year-old building. He instructed teachers and students to "make sure that it is taken care of so that it will last another 30 years."
President Tupou reminded all in attendance that "this donation is not from us, but is from our Father in Heaven. It is from the Lord, for his children, and we are all the Lord's children."
LDS Charities and other Latter-day Saint volunteers are dedicated to relieving suffering and offering hope with the potential for a better life to millions of people around the world.
GPS stands for Government Primary Schools.