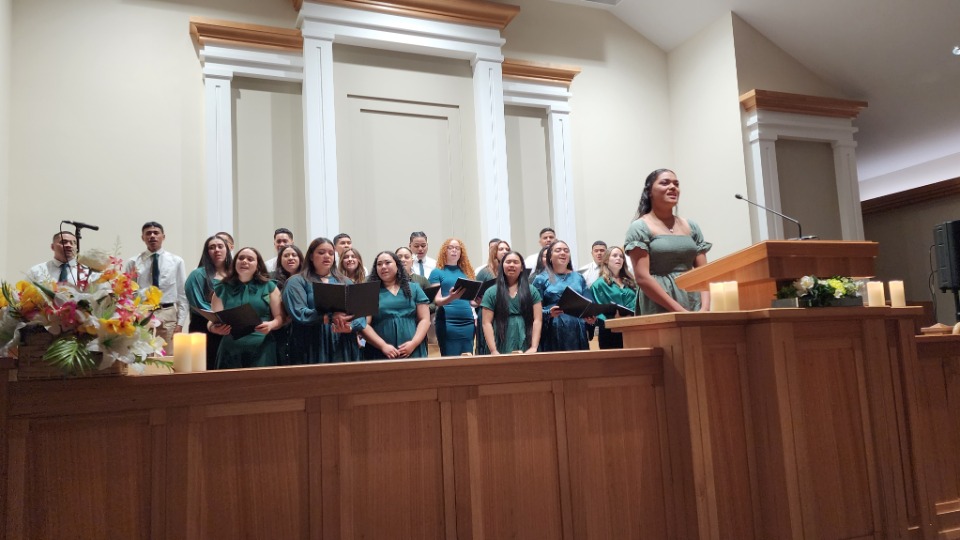 A number of Brisbane young adults who sing in a group called the "All In Choir," recently fundraised their way to Melbourne to present a musical devotional, entitled, "His Arms Around Me."
The group has traveled around Brisbane since last October, sharing their music, and have hopes to travel to Cairns and New Zealand in the future.
On the weekend of 27-28 May, at Melbourne's Wyndham and Narre Warren chapels of The Church of Jesus Christ of Latter-day Saints, flowers set the stage for a heartwarming evening of music.
The young adults prefaced each musical selection with messages such as, "I testify that Christ lives," and, "In moments when you're lonely and tired, His arms are open wide, and you will feel His love."
One choir member said, "We're all going to go through many beautiful experiences. Our purpose is to sing of Christ. During down moments, take a deep breath and look up."
'All In Choir' director, Lanvi Satele, shared his feelings of a dark time in his life, in and out of hospital, when he asked, "Is there a place for me on this earth? Am I needed here?"
Lanvi continued, "Trials come at all times in our lives. When you put Christ at the centre of your life, then you know that life is worth living. This choir has saved my life. If you're struggling, stay a little longer. Reach out for the Saviour. He's been there all along."
Wyndham Latter-day Saint leader, Darryl Taula, said at the end of the performance, "Feeling the Spirit isn't just for us to feel good, but to do something about it. The choir has been missionaries tonight, testifying of Jesus Christ."
Full-time missionary, Elder Sikolasipi Faka'osilea, wished all the missionaries could have been there. "It was beautiful, absolutely beautiful," he said. "I loved it. The Spirit really came through."
Lucille Johnston said, "The whole concert was lovely and I felt the Spirit. I particularly liked their arrangement of 'How Great Thou Art' where they sang some parts in  Māori."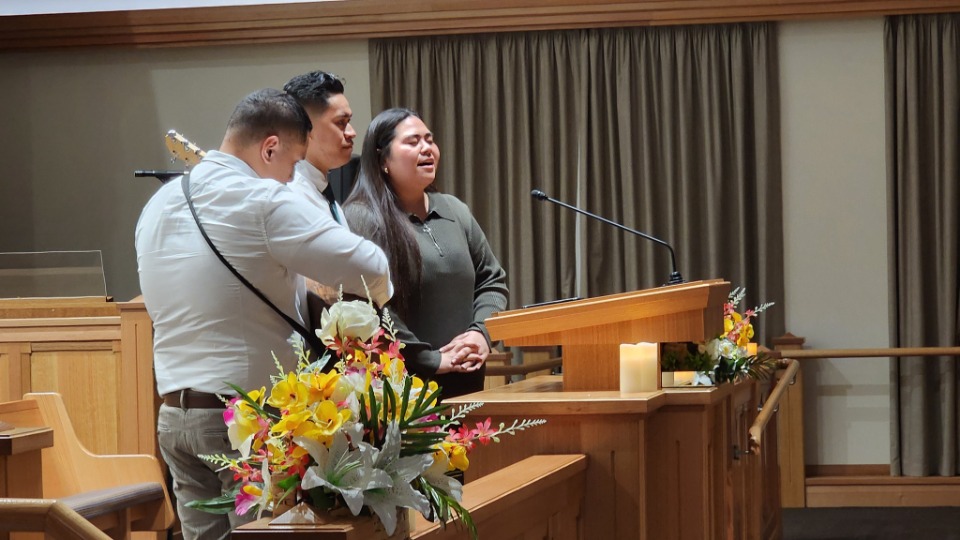 Choir co-director, Kaiulani James, said, "This choir is time consuming but good fun. We're not just a choir; we're a family, ages 17-27. For me, it's showing the younger ones that life is do-able and we can express ourselves through song."
Eseta Mahanga loves singing in the choir where she feels safe and can be herself.
These devotionals were part of a broader weekend of young adult activities which also included a service project and games.
Lanvi later shared how he has served in leadership positions with Church young adult groups for the past ten years and knows how to relate. He said, "The choir helps me spiritually. It allows me to serve, teach and train. It brings me such joy."
"A friend reached out to me last October" he continued, "needing some help with a Christmas musical program. Even though I was struggling, I was able to serve. At Christmas, we sang at a Church leadership meeting in Brisbane. We later performed at an Easter devotional. Many choir members are now coming back to church. When they resonate with the message, the Spirit takes over."
"Many choir members struggle with mental health or difficult family situations. We always sing for Christ," Lanvi says. We all have a love for Christ and love for His gospel. Even if people don't want to sing, I invite them to just come and feel of Christ's love. I don't want anyone to experience what I did. I love my choir. We're not a choir; we're a family."