Recently, employees and volunteers at the Pacific Area Office of The Church of Jesus Christ of Latter-day Saints collected new toys to donate to FosterHope, a local New Zealand charity that supports kids in foster care.
All the toys were donated by staff and missionaries in the Pacific Area Office to help make Christmas a little brighter for children.
According to Louise Burnie, Chairperson of FosterHope and Auckland Co-ordinator, their goal was to gather 10,000 unwrapped Christmas presents to distribute to social workers across New Zealand who will then match a gift to the individual interests of each child under their supervision. The hope is that every child in placement homes will feel loved and cared for this Christmas.
Yvonne Rameka, Maria Talamaivao, Renee Mariner-Solomon and Lian Whitefield—who all work in the Area Office—were tasked with heading up the annual office service project for 2022. The women placed huge, decorated boxes in their office space and encouraged their fellow workers to fill them up with gifts for the kids.
The response was generous and the boxes were filled with a wide variety of gifts that will surely gladden many young hearts. On Friday, 9 December, Yvonne, Maria and Renee delivered a car-full of gifts to Louise Burnie. They also brought a donation from The Church of Jesus Christ of Latter-day Saints to further assist the FosterHope organization in its work to bless at-risk children in New Zealand.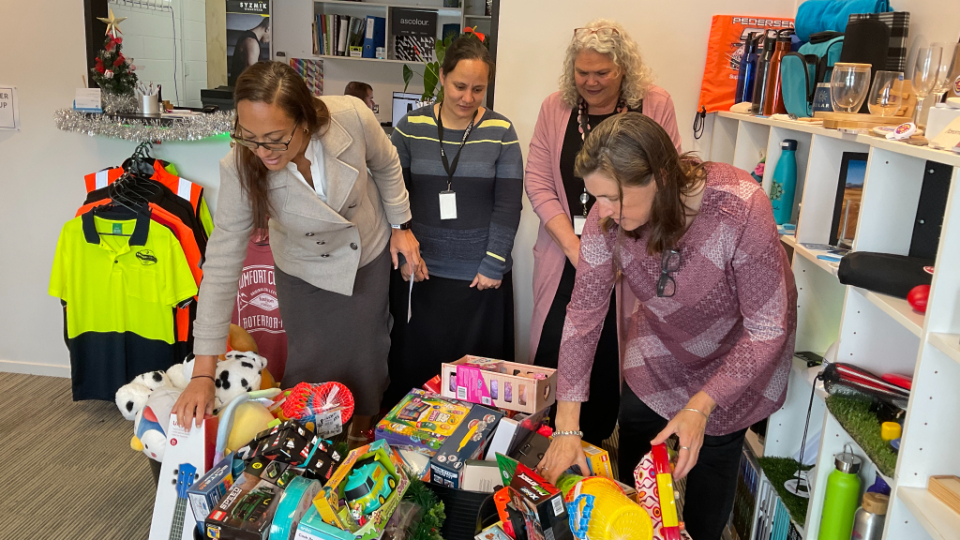 Louise Burnie was grateful for the Christmas gifts as well as the cash donation which she explained "will help to pay for a group of kids and their foster families to enjoy a day at the Auckland Zoo in January."
Yvonne Rameka was attracted to the vision and mission of FosterHope when she was choosing a service project for the Pacific Area Office this Christmas season. FosterHope is well known in the community for its commitment to and effectiveness in bettering the lives of children.
Yvonne noted that "the beliefs and vision of FosterHope very beautifully align with those of The Church of Jesus Christ. They were a wonderful fit for us and we loved being able to support their efforts."
Pacific Area Office staff and missionaries support the Church's disaster relief, humanitarian, construction, family history, self-reliance, education, and other efforts in the South Pacific.