For the first time in the Pacific, The Church of Jesus Christ of Latter-day Saints is sponsoring a unique television broadcast series, "Finding Faith in Jesus Christ." It is being shown on EMTV in Papua New Guinea.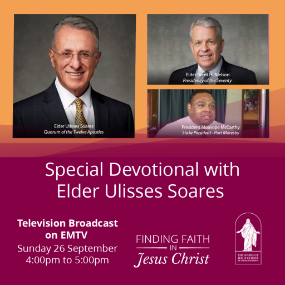 The devotional with Elder Soares, which will air on 26 September, 4:00 pm to 5:00 pm, is the third program in the series.  Elder Soares will be joined by Elder Brent H. Nielson, a member of the Presidency of the Seventy.
The broadcasts, which premiered on July 25th and are continuing monthly for six episodes, feature messages from senior Church leaders based in the South Pacific and in the United States.
Past broadcasts have explored the topics of faith in Jesus Christ, and the importance of temples.
Local leader of the Port Moresby stake, Moasope McCarthy, hosts the program.
Watch a recording of Elder Soares' address at the April 2021 General Conference of the Church: