New Zealand-born sculptor Le Roy Transfield collected his latest sculpture from a Utah foundry on June 13 and two days later personally delivered it to Temple View, New Zealand, in time for this Saturday's opening of the Matthew Cowley Pacific Church History Centre.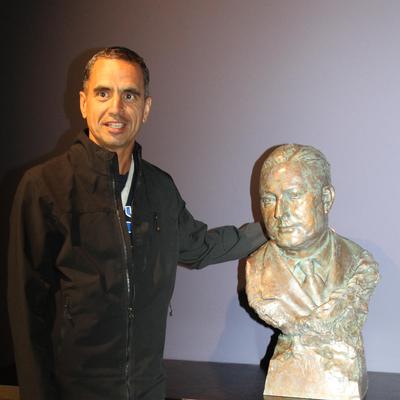 The bronze bust of Matthew Cowley, a former Apostle of The Church of Jesus Christ of Latter-day Saints, for whom the Centre was named, was commissioned by the United States-based New Zealand Missionary Society.
In the sculpture, Cowley is wearing a korowai (cloak) to highlight his close association with New Zealand, where he spent almost 12 years in missionary service.
Transfield, who now lives in Orem, Utah, with his wife, Kelly, began sculpting as a teenager in New Zealand. He refined his art as a student at Brigham Young University, Hawaii, where he graduated with a Bachelor of Fine Arts.
One of his best-known works is a relief sculpture of Jesus Christ and the Apostles which is displayed over the entrance to the Church's Newport Beach, California, Temple.
He said he found sculpting a bust of Cowley challenging but he was pleased with the finished work which depicts Cowley as President of the New Zealand Mission in the early 1940's.
Photo courtesy of Gill Ballard.