The devastating effects of the Category 5 Cyclone Winston three weeks ago are still being felt in some areas of the beautiful islands of Fiji. Senior missionary couples and young single missionaries of The Church of Jesus Christ of Latter-day Saints are giving full-time service in the midst of the devastation.
On Taveuni Island, senior missionaries, John and Karen Vermeeren, of Calgary Canada, are up at dawn and on the job until late at night, providing food, clothing, water, shelter and comfort to the victims of Cyclone Winston.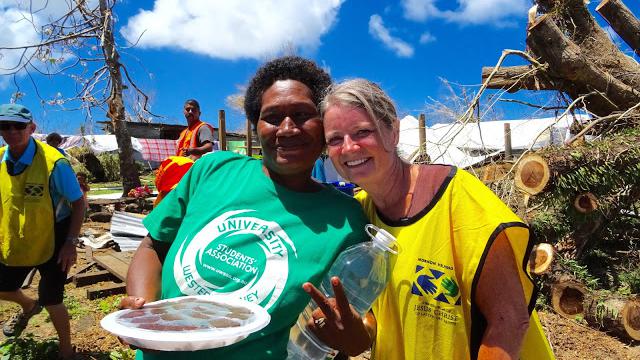 Little did they know, when they left Canada a year earlier to begin their missionary service, they would experience the strongest tropical cyclone to make landfall over Fiji on record.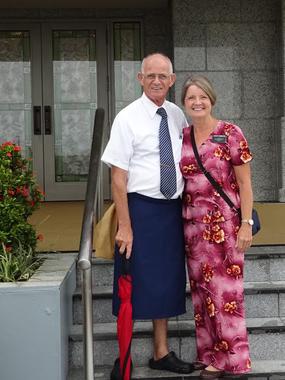 They, along with many other members of the Church, were in Suva on the nearby island of Viti Levu for the rededication of the Suva Fiji Temple when the cyclone struck. It was several days before they were able to get transportation back to their home on the island of Taveuni.
She wrote to her family, "We were overwhelmed as we flew over the Island of Korova. Everything flattened and so unreal. Then over Taveuni. Nature had pruned all the beautiful trees and flowers. It looked like a different island. We could hardly drive through the tree covered roads. People seemed to walk around looking lost and unbelieving. We stopped at the chapel to find homeless families, children and babies sleeping on mats, laundry hanging from the windows."
Getting to their house was a challenge, but they were grateful to find it only slightly damaged and dirtied. "We were very blessed as houses around us were not as fortunate."
After cleaning up, "enough to have a place to sleep," the Vermeerens drove through the muddy roads to those places they could get to, assessing the damages, visiting with the families, and talking with local leaders.
Vermeeren wrote, "We had no internet or phone service. No communication with the Vuna and Navakawau areas. We tried to drive to Vuna. Roads were washed out and impassable. There were deep muddy tracks where others had tried but failed to pass.
"We have heard there is much damage on the south part of the island. They were in the eye of the cyclone and there are no homes standing in Navakawau and only a few in Vuna."
A few days later, the Vermeerens, their truck loaded with food, water, and clothing, began their journey to the south of the island, taking with them the young single missionaries, eager to help. 
"The roads had dried somewhat and tractors had cleared a few areas. It was still a mucky, scary ride on narrow washed out roads up the mountain. We literally saw houses torn to bits by raging waves and wind. In Vuna it looked like a war zone. Part of our crew stayed to help remove trees."
When they reached Navakawau: "People are working together to clean the rubble and repair what is possible. Many building materials are scarce or unaffordable. Tarps are homes for many that can get them. Everyone seems to share what little they have. One house still standing has 104 members of 15 families sleeping in it. The most astounding thing is they are smiling and optimistic, so grateful for their very lives."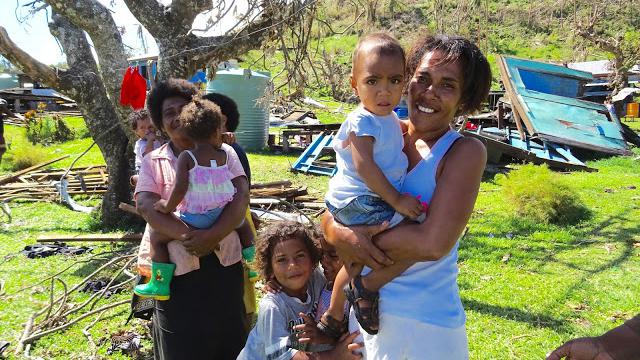 Two weeks after the storm: "This morning, [John] and others are buying out all the crowbars, hammers, nails, etc. the island has. Everyone is helping to make sure shelter will be available to as many and as quickly as possible. Many have no pots or pans or utensils to cook with. There are many things to consider and do."
The Vermeerens, along with other missionary couples throughout the damaged islands, were instructed to purchase large quantities of food and water at the local stores to distribute to those in distress.
"Our church has been supplying food, water, and temporary shelter, as has so many wonderful organizations. There are still so many needing help. Navakawau alone has a population of about 600. Vuna and Lavena were also left with many homeless and without food and water. What a blessing to see the kind actions of so many to help their fellow man."
Hans Sorensen, Manager of Welfare Services for the Church's Pacific Area, said, "We are focusing [our recovery efforts] on Taveuni Island where three villages were hit particularly hard affecting approximately 1000 people. We are sourcing ten-man tents now."
The Church is one of several organizations providing relief in Fiji. Australia and New Zealand governments have shipped several tons of food and supplies and hundreds of military troops to assist in distribution and rebuilding. The government of Fiji is well-organised and responded quickly and efficiently to restore power, reopen transportation routes, and distribute goods.
Sorensen said, "We have a great working relationship with the government at senior levels and that becomes enhanced through these difficult times as we work shoulder to shoulder to achieve the same aims."
Vermeeren says, "The Australian Army has been helicoptering in men and supplies. Many were given only a few hours' notice to leave their families before flying out."
The young Mormon missionaries have also been spending all their time in clean-up and recovery efforts—the Vermeerens' willing and happy "work crew."
She said, "The missionaries were a great help to us and worked hard to get as much done as we could. Families cried as we brought food and water. In Navakawau the village was unbelievable. Homes flattened everywhere. Again, they wept as they saw the supplies we had brought."
Cyclone Winston was the strongest storm ever to hit Fiji. Akapusi Tuifagalele, Director of the National Disaster Management Office (NDMO) reported throughout the country, 7,042 houses were destroyed and 11,112 more were damaged.
He adds that 25 schools remain closed; 21 are being used as evacuation centres for the still 19,649 evacuees. The total cost of damages today is estimated at nearly $500 million.
Sorensen says the Church's Welfare Department is consulting with local leaders and organisations to determine how to join forces and help long-term with rebuilding schools and homes in the hardest hit areas.
Given the intensity of Cyclone Winston, it is miraculous that there were not more deaths.
Vermeeren said, "We have seen miracle after miracle in the aftermath of Cyclone Winston that raged through our beautiful garden island and left so many destitute."
She recounts an example: "Nine-year-old Caroline was severely sliced with a piece of roofing aluminium. Her brother put her in a wheelbarrow and somehow was able to push her five kilometres on a dirt road to the nursing station. He saved her life. We have no idea how he was able to do this in the storm. The winds were quoted as being about 350 kilometres [217 miles] an hour!"
The signature yellow "Mormon Helping Hands" vests are seen on workers all around the islands as all are working together to provide the necessary relief. 
"What a wonderful opportunity it has been to work with LDS Charities. We have gained a real respect for the generosity and love our Church provides, especially in times of emergency crises.
"Being in the front lines, watching as they provide for the needs of those without shelter, food, and clothing has been an incredible experience," says Vermeeren.
"We are so grateful for the support of the Church. [Mission] President Layton and Frank Stanford, LDS Charities, have been here this weekend. They have been organising, planning, and ordering, so we all can move forward in helping as many people as possible. We are grateful for their ongoing and tireless efforts."
Members of The Church of Jesus Christ of Latter-day Saints give generous fast offerings and humanitarian donations for these purposes. Because the Church does not have a paid ministry, 100% of these funds assist those who are in need. 
H. David Burton, former Presiding Bishop of The Church of Jesus Christ of Latter-day Saints, in a general conference of the Church in April 2011, said, "As long as the Church has resources, we will not let you go hungry or without clothing or without shelter. We shall do all that we can to assist in the way that the Lord has designated that it should be done."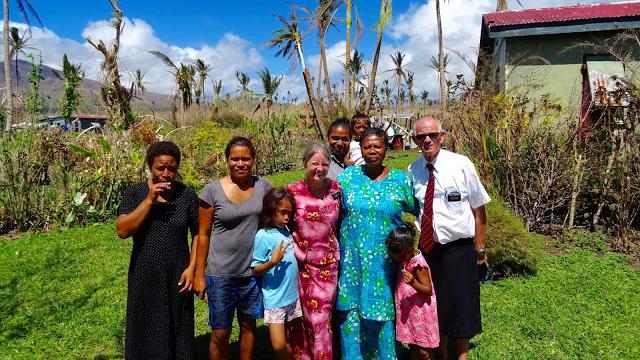 Vermeeren said, "We are grateful to be humble missionaries on what was the most beautiful of Fiji's islands. We feel it still has the most beautiful people. We love them dearly and know the Lord will continue to bless them as they rebuild their homes and lives. We are grateful to be here. We are grateful to be members of The Church of Jesus Christ of Latter-day Saints. We feel so blessed to be missionaries."
Latter-day Saint missionaries serve without pay and at their own expense, normally for 18 to 24 months before returning to their homelands. Today there are over 80,000 missionaries serving around the world and of those, close to 7,000 are senior missionaries, usually after they have raised their families and retired from their professional careers .
To learn more about the work senior missionaries do while on these missions click here.
With credit to Karen Vermeeren for her story and photos.