Elder Dale G. Renlund of the Quorum of the Twelve Apostles of The Church of Jesus Christ of Latter-day Saints met with members and guests of the Church in several meetings in the Kingdom of Tonga this past weekend.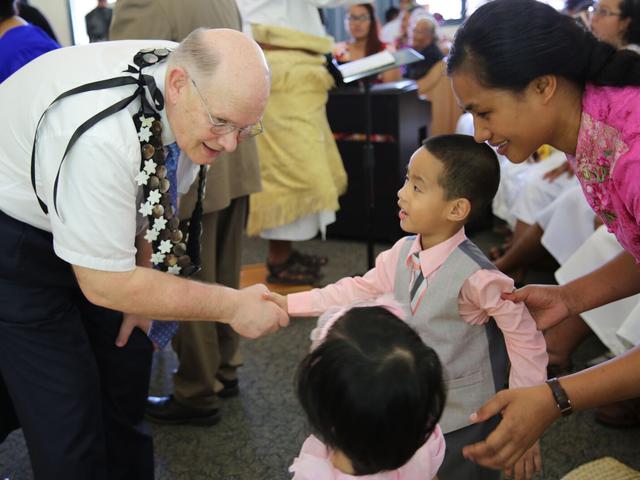 At a special conference in Nuku'alofa on Sunday 19 February, Elder Renlund spoke about a meeting with Latter-day Saint leaders and Her Royal Majesty, Queen Nanasipau'u, and other members of the Tongan Royal Family, which took place on Friday 17 February.
"I have never met rulers who care more deeply about their people than Their Majesties the King and Queen," Elder Renlund said.
"We believe in being subject to rulers and kings," he said. "Members of the Church of Jesus Christ of Latter-day Saints should be the best citizens of Tonga."  
"Governments frequently try to change people from the top down. We can help this remarkable Royal Family by changing people from the bottom up; by changing them one heart at a time."
Elder Renlund added, "If we want to help the Royal family, and we should, we change our hearts and follow Jesus Christ, and everything we do will be for the benefit of the people of this remarkable kingdom."
Accompanying Elder Renlund to the Royal Palace was his wife, Ruth Renlund; Elder Donald L. Hallstrom of the Presidency of the Quorum of the Seventy and his wife, Diane Hallstrom; Elder O. Vincent Haleck of the Quorum of the Seventy and his wife, Peggy Haleck.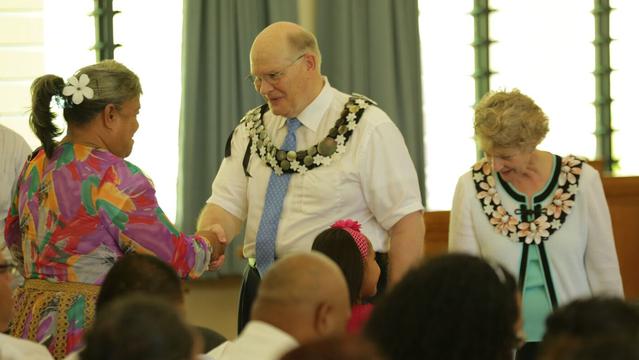 They met for approximately 45 minutes with HRM Queen Nanasipau'u, HRH Crown Prince Tupoutoʻa ʻUlukalala and his wife HRH Princess Sinaitakala Tukuʻaho, and HRH Prince Ata.
Speaking of Friday's meeting, Elder Hallstrom said, "Her Majesty was very gracious, and very welcoming and respectful to the Church. She is an impressive woman who cares deeply for the people of Tonga. She is very interested in their welfare."
Elder Hallstrom added, "Her Majesty expressed that His Majesty the King would very much have wanted to be there but he left that morning for one of the outer islands to really better understand what is happening among the people."
"That is what impressed us—that both the King and Queen are very concerned about the people. They want to know what the real conditions are and how they might be better able to help them."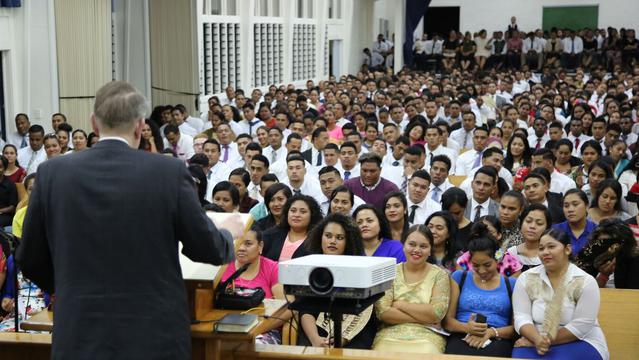 Elder Hallstrom said the meeting revolved around how the Church has worked with Tonga in the past and how they can better support the Royal Family's efforts to make a more self-reliant people in the future.
"HRH Princess Sinaitakala Tukuʻaho has a special project for parents to read to their children under the age of five and so we spoke specifically of some things we might do to assist in her project," Elder Hallstrom said.
Elder Renlund had the opportunity to meet with His Majesty King Tupou VI and Her Majesty Queen Nanasipau'u in Hawaii in June, 2016.
Tonga has a current population of about 107,000 people. There are 168 Latter-day Saint congregations in the country.
HRH Prince Ata was baptized into The Church of Jesus Christ of Latter-day Saints in 2015.
Newsroom contributors: Lincoln Reid, Michael Ramirez, David Snell, Sione Langi.